The old staircase in this old house has definitely seen better days. When we arrived we found that the original handmade wooden balustrade had been replaced with an interesting bit of bodged blocking that was sheathed in some of that "oh so very" 1970's style wood paneling and stair treads that were smothered under a runner of scratchy grey indoor/outdoor carpeting of really dubious cleanliness.  All of the above covered with a thick layer of rock-hard ancient yellow carpet mastic… Sigh.
We removed the blocking, the paneling, the most hideous carpet, and chipped off much of the evil carpet mastic and this uncovered a nifty vernacular staircase. Unfortunately, the railings were long gone and the stairs had also been subjected to having the ends of the treads sawn level with the riser edges. This was one of the "sit down and have a little cry" moments that every fixer-upper of old houses encounters. Good stuff that was gone for good.
These old and scarred stairs have become a puzzling fix-it project for these bears of very little money. The options seemed to be; to replace the stair treads or maybe to restore a new "old" bannister (most likely well beyond our skills) or perhaps to replace the entire staircase (lol…yeah pretty funny!) or we could try to get creative and just live with this bit of "charming" oddity.
We are, of course, just living with the oddity but adding a little bit of painty-goodness is proving to be pretty terrific for morale in the face of our very limited renovation options.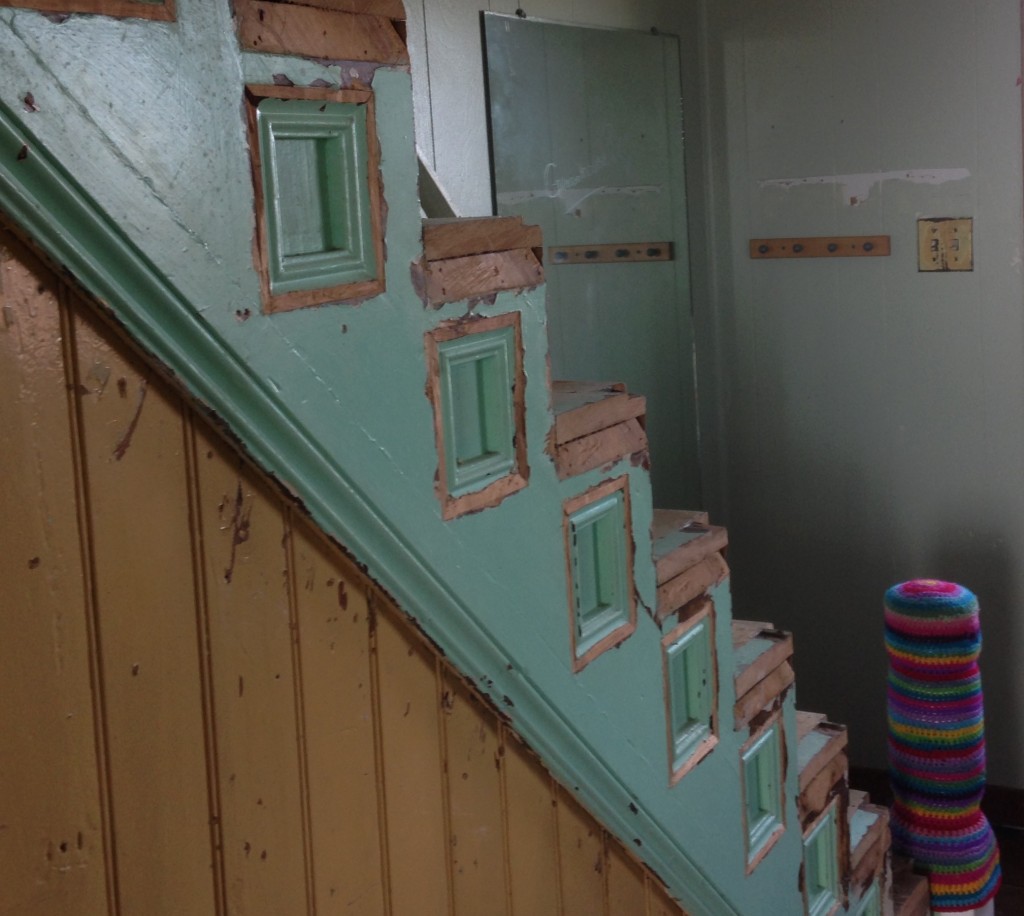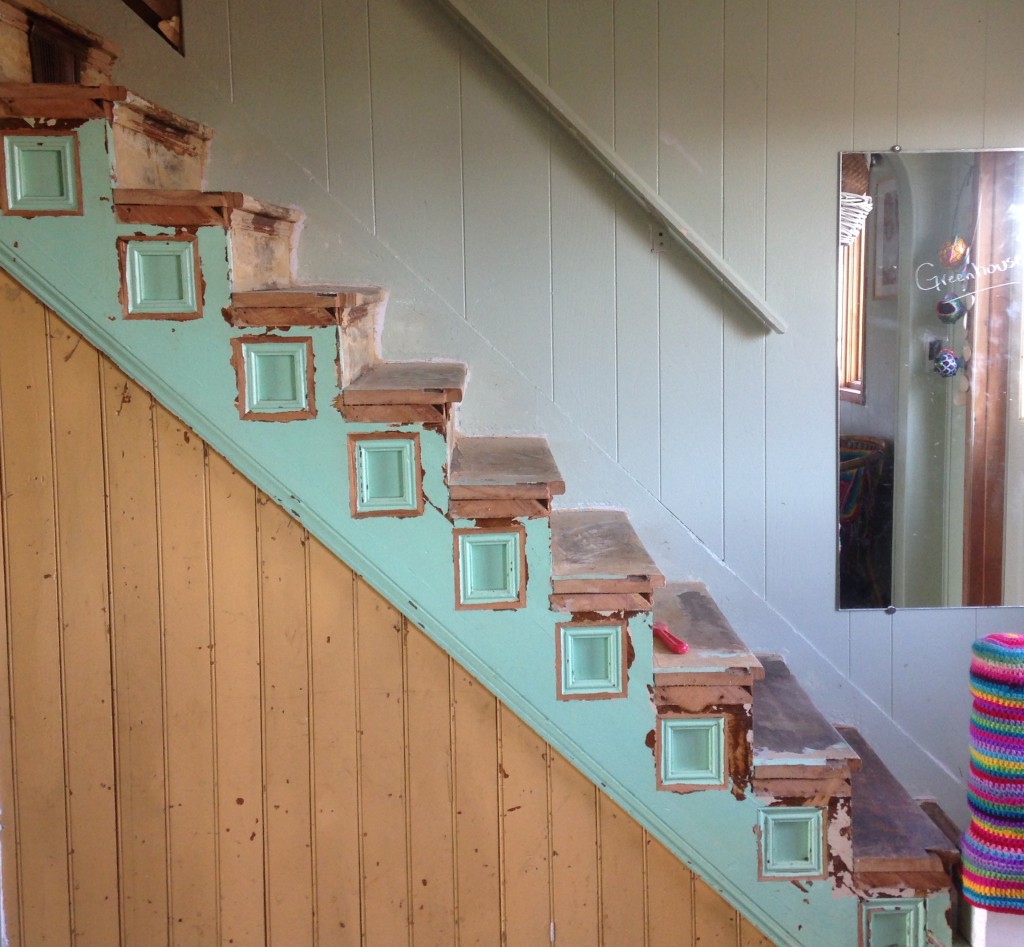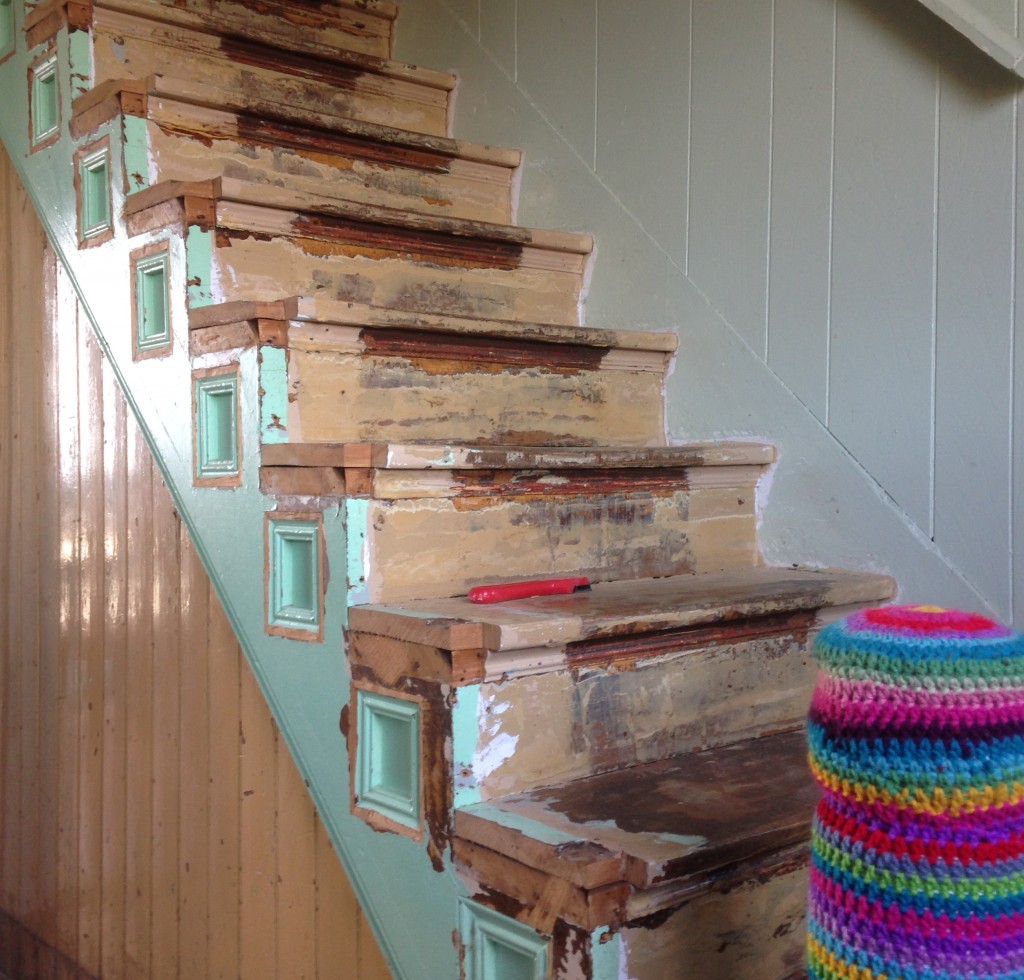 A few cans of various colours of paint and we suddenly have a pretty cheerful and fun way to climb up the wooden hill (shiny in the pics as still quite wet).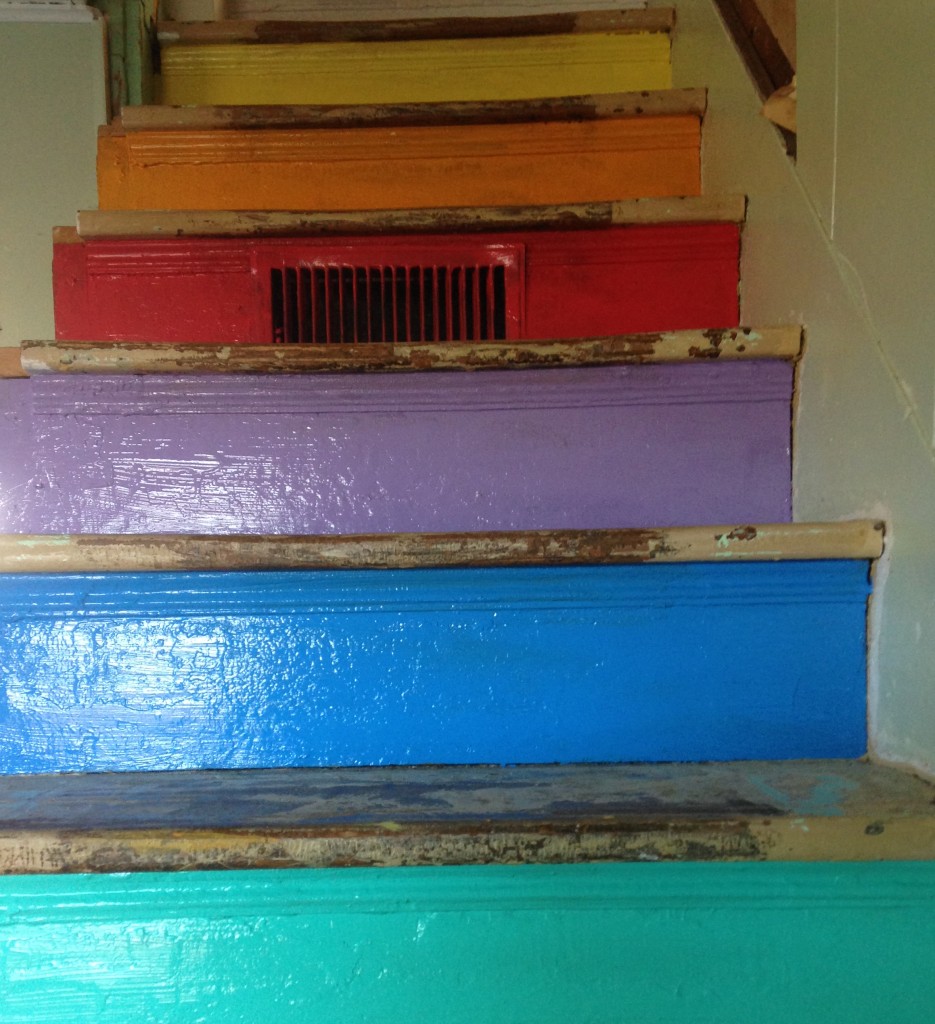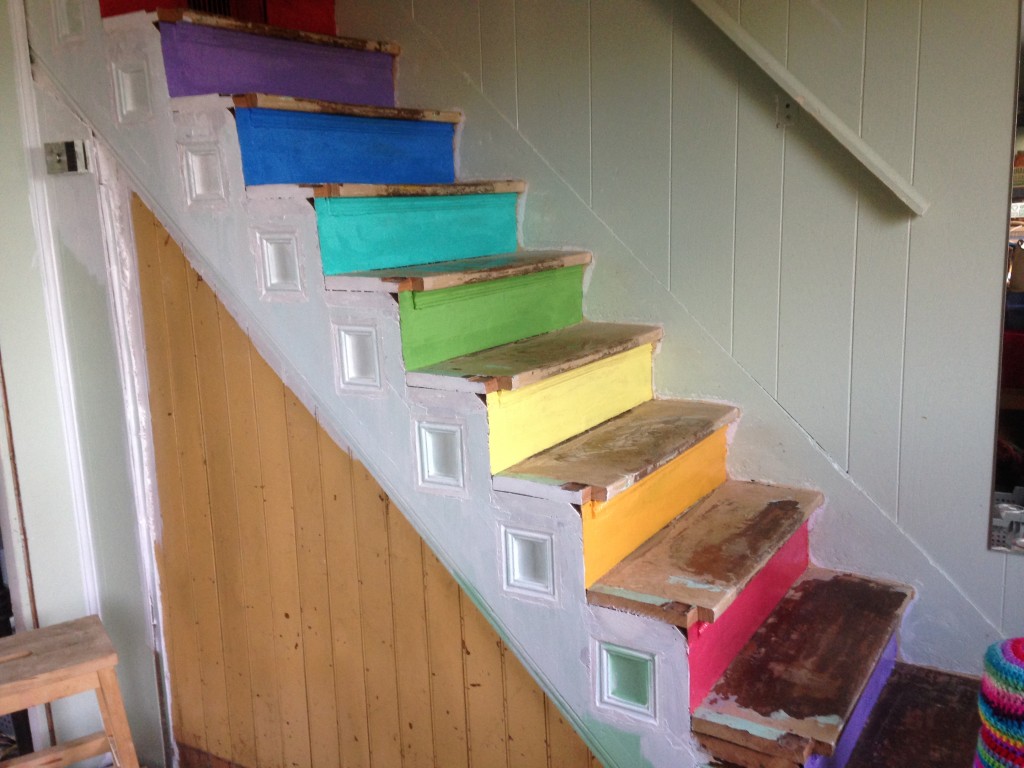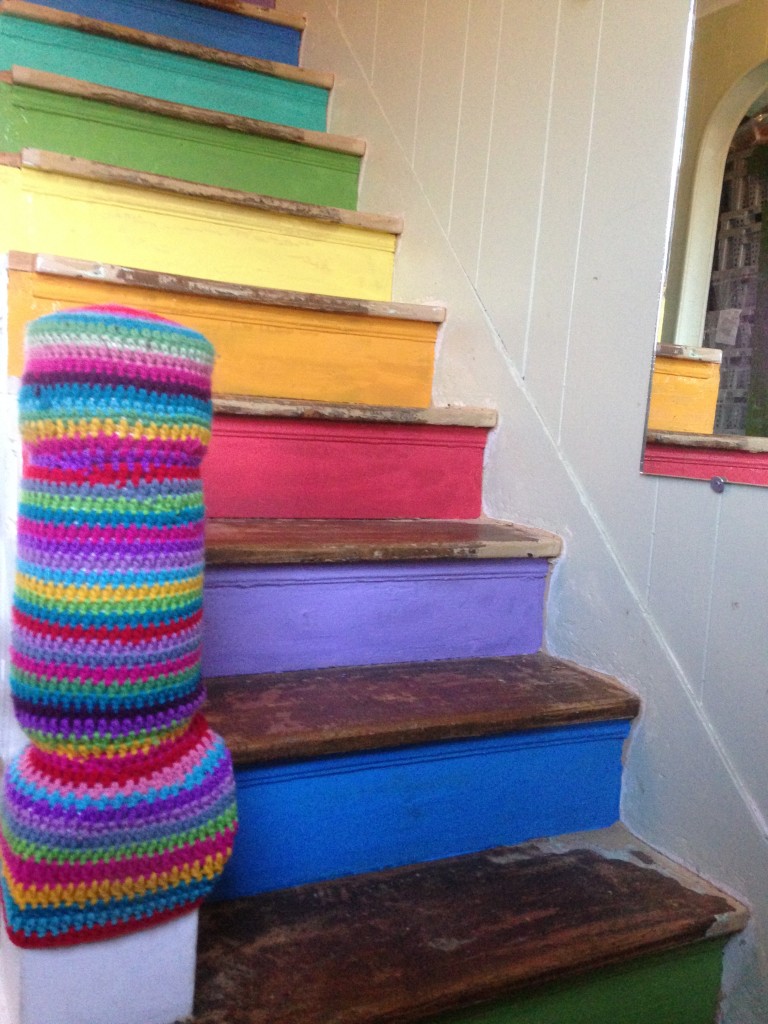 The first coat is now dry and that means it is time to stop writing and to apply the second coat. The second coat is when any bright coloured paint really begins to shine and to look so much more finished (and when you begin to be a little more sure this kind of colourful idea was not a pretty HUGE error in judgement).
Streaky first coat aside…do already Love the Lovely Colours! Big Grin.
Next comes the much more complicated task of finishing the treads (baby steps..right).
There has been some consternation over the choice of clean white painted treads or spending the time needed to return the stair treads to plain wood. The lashings of remaining carpet glue do seem to make the choice a great deal more simple – so when it is finally completed, this bit of painty-stair fun will most likely have neat white treads (or maybe all rainbow steps would be good?).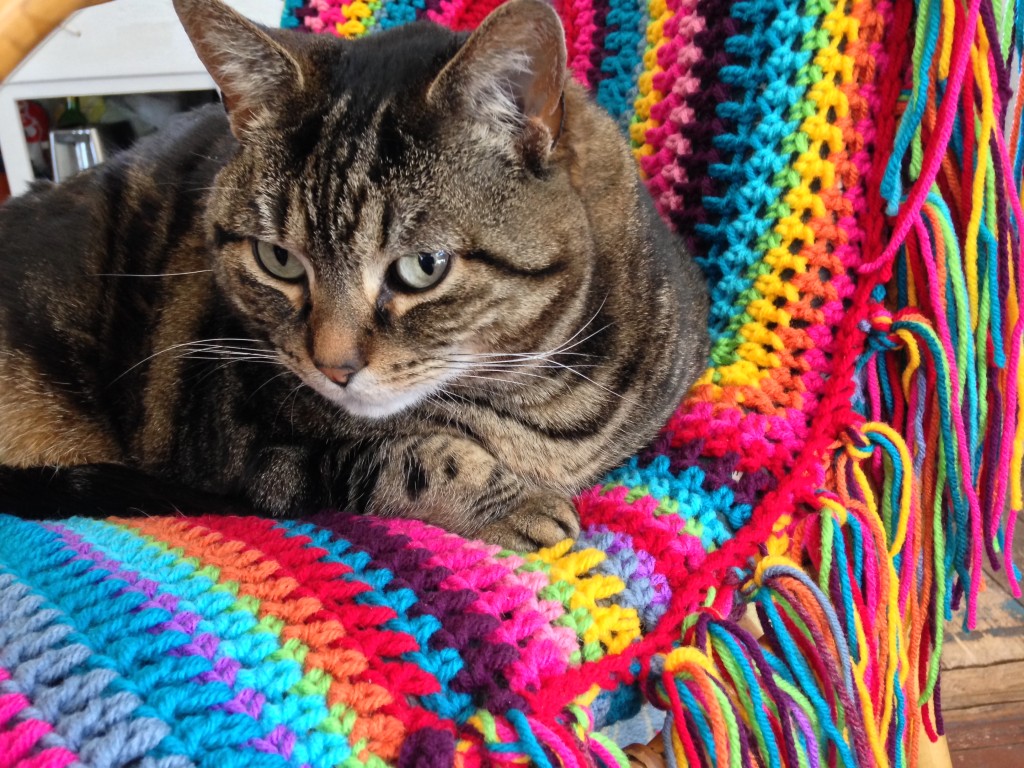 This fuzzy little lady is a big part of the reason that we have only managed to complete half of the "Great Stair" project. How exactly one keeps a cat from walking pretty much wherever she likes is the debate. It seems quite likely that the treads will have to be postponed until next Summer when we can do a little campout with her Royal Kitteh-ness…
It never ends, does it? Demanding greedy house. :)
5