We love love love to grow greens!
We had two warmish and fabulously sunny days in a row after a very long stretch of seriously cold weeks (or was it months?) and that little hint of warmth made me think of how welcome early Spring greens always are. Greens are the very first vegetables that will be ready to bring to the market and this makes me love growing them all the more. Getting started feels like such a relief!
Cultivating leafy greens seems very sensible in a coastal garden. Leafy green vegetables grow at a steady clip and hold up very well in our cool and often cloudy weather. We know that greens are packed with great nutrition and that they bring lovely colours and flavours to all kinds of meals. They are also fully and completely beautiful. The colours, the leafy shapes, the flounces and ruffles… Love them all!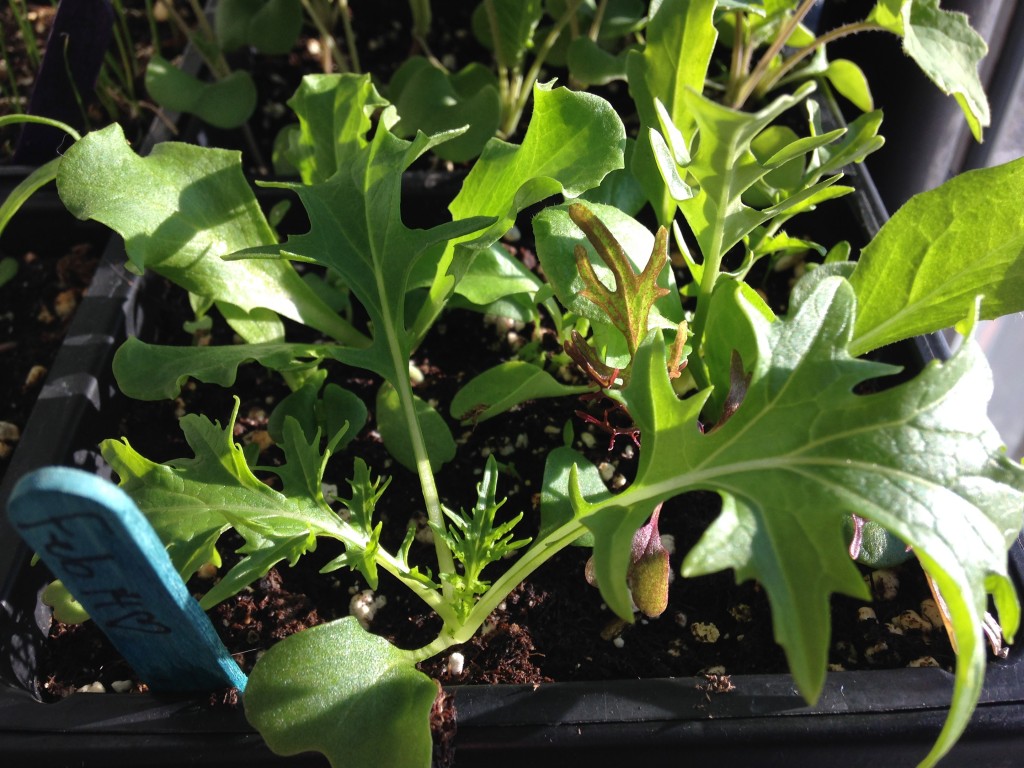 Delicate pea shoots, tiny chard leaves, young nasturtium leaves, crisp baby lettuce mix and the pretty petals of blue and pink cornflowers combine to make lovely "Spring Salad Mix".
Sturdy, reliable Kale makes a hearty and fabulous addition to stews and soups. Here we grow every kind of Kale that we can get seeds for… curly, flat, blue, red, or even striped leaves, including the fascinating almost black strap-like leaves of Lacinato kale. Dear old Kale, what can't you do?
Asian greens are excellent as stir fry ingredients and they equally work equally well in the place of spinach in many dishes. These lesser known and somewhat exotic greens are always a pleasure to grow and this year we will have Joi Choy, Golden Baby Bok Choy as well as many fancy and colourful varieties of mustard greens (so perfect in a simple summer soups). We are growing some charming oddities too.    Look for bundles of "Kang Kong" at the market this year. This unusual edible relative of "Morning Glory" has strap shaped leaves and hollow crunchy stems (sort of like a nutty and robust asparagus when stir-fried… do try this one!).
Beet greens and pretty much any other greens can be included in the super trendy and also very tasty green smoothies (Maybe not endive though? Unless you are far more fond of bitter that us). Those beet stems can also be turned into a pretty nifty beet-stick pickle. Lovely on a relish plate but I think they really shine as an elegant and unusual drink garnish. Beet-stick Martinis? Shiny!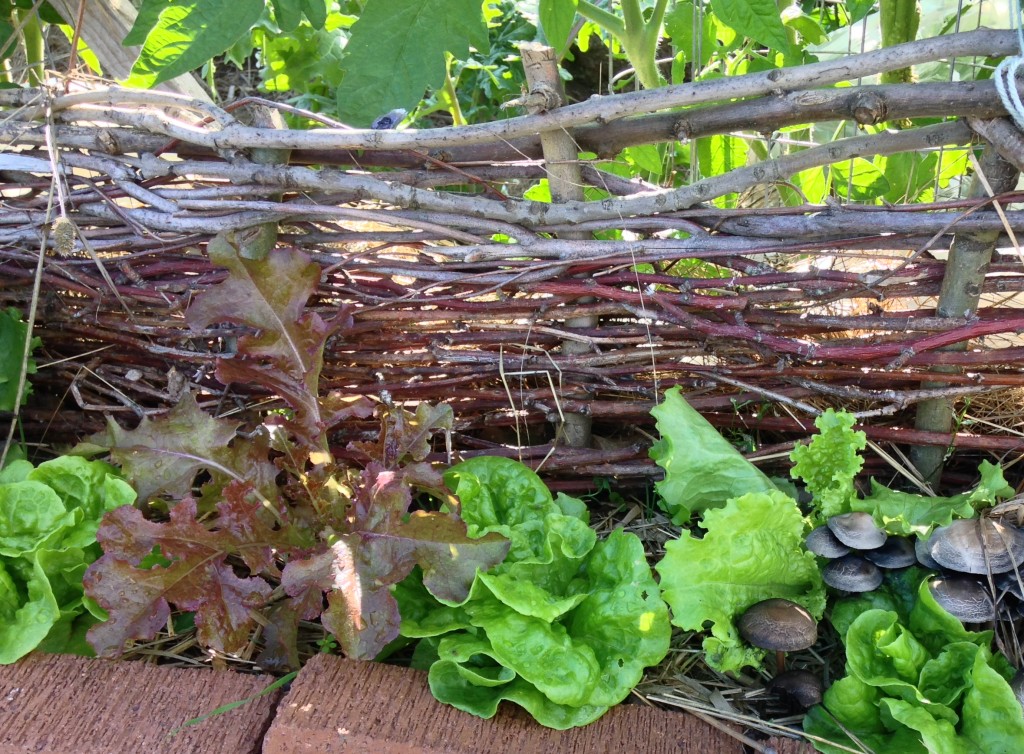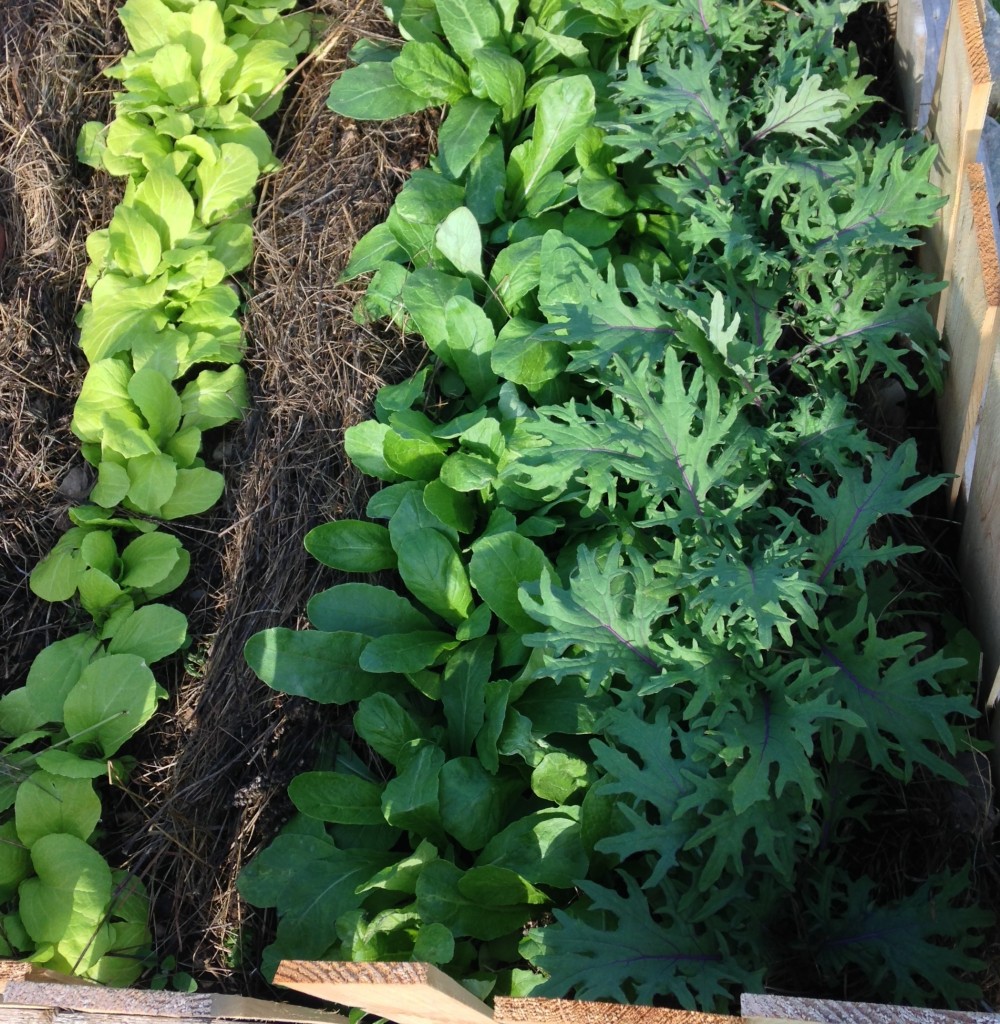 Simple, crisp and hard-working lettuces. These are the children at the Garden-Party wearing their overblown leafy dresses with the ruffles and the flounces and the fabulous colours. We have so many different lettuces going in this season from the large dark green and crunchy Romaines to a delicate little speckled leaf lettuce by the name of "Freckles" – so completely charming!
Then we have Swiss Chard. Oh my stars! I do believe that Swiss Chard is truly the Belle of the vegetable garden-show! This is a green to be just plain crazy about.  The colours – Orange, Hot Pink, Ruby Red, Bright White, Citrusy Yellow… Ruffles and swirls and stripes!  Swiss Chard is the one that has it all. A real living rainbow that you can actually eat for supper. So fabulous and so fun! Also, do very much love the other names for Swiss Chard: Silver-beet, Bright Lights, Seakale Beet and Perpetual Spinach. Lovely.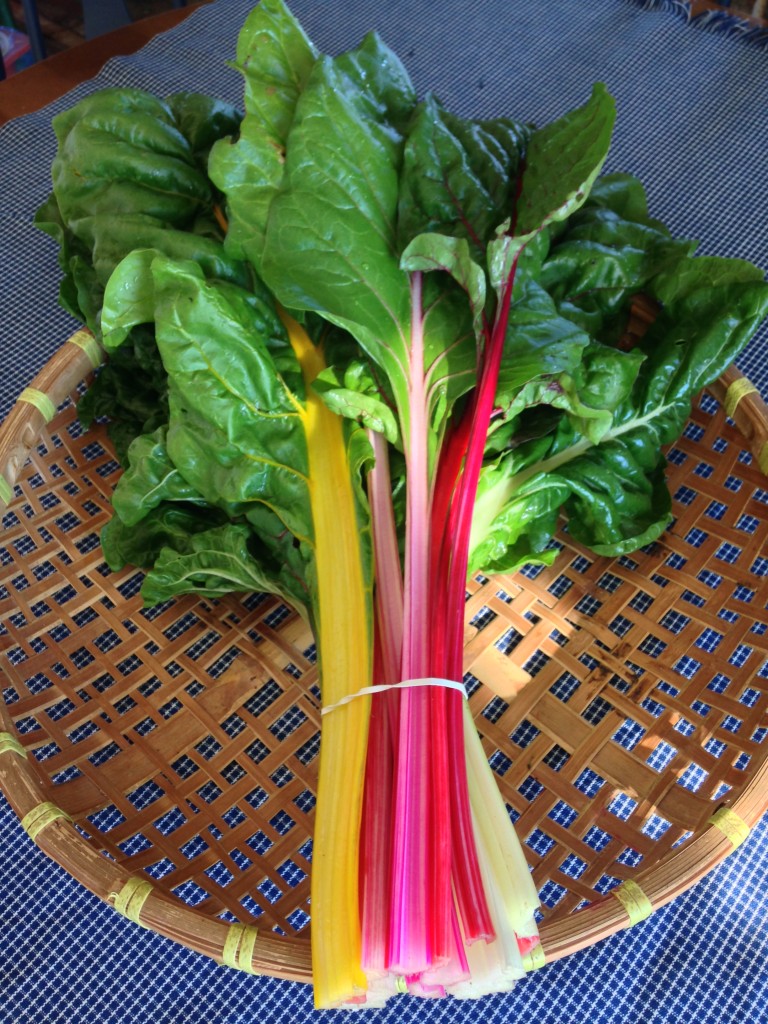 Getting our greens ready to take to market is by far the most time-consuming job on this little farm.
Fresh greens are very fragile and very perishable vegetables. It takes many hours to harvest, clean and bundle our Kale, Chard, Lettuces, Beet-greens and all of the different kinds of Salad Greens. We even have to harvest the some of the most delicate greens by the light of the morning moon to ensure that we can get them to the market when they are as fresh as possible.
Sounds romantic doesn't it?  Moonlight Gardening.
Great Greens indeed!
8