Linoleum.
There were at least four layers of old linseed-oil linoleum and two layers of fibreboard covering most of the floors in this little house. There was also some of that weird 1970s patterned vinyl that I can never quite decide… Super-tacky or Super-cool?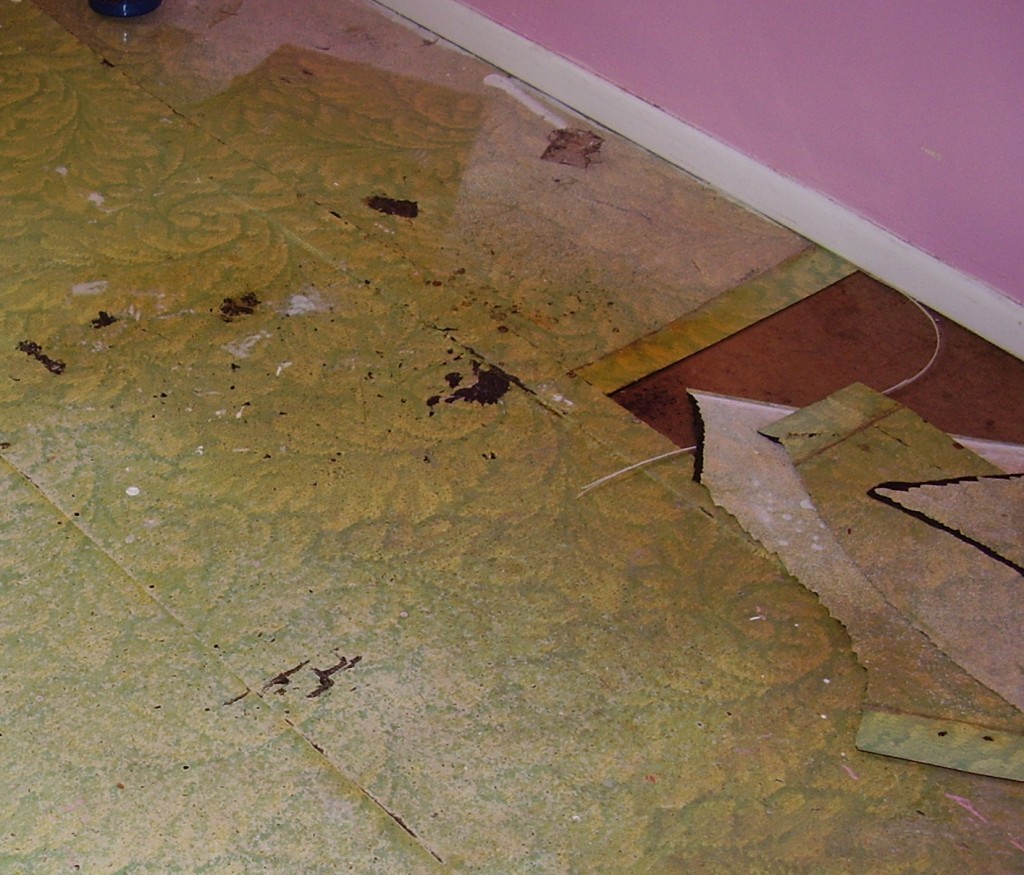 Old house renovations are always part treasure hunt and part horror story. You'll find the usual: the alarming old rotten wood, the cracks in the foundation, the sketchy plumbing and the slightly scary ancient shoes that have been placed in the strangest locations. You'll uncover the crazy old newspaper-for-wallpaper and find the horrible asbestos tiles.
That's the way it goes, but every now and then it goes the other way too and you get to uncover nice old fir floors that have, miraculously, not had any mastic glue applied… Oh Happy Day! Really, that old black lino mastic has to be the bane of every do-it-yourself old house owner. Weeks spent on hands and knees scraping up tarry and rock hard glue is something you just never forget. There is lots of old paint on these floors though, and in many colours (will deal with that later… much later).
It always feels like this cottage breathes a sigh of relief when we get a layer of fibreboard off or a layer of old linoleum flooring out the door. I swear the little house says "Thank you… that feels a lot better".
This is the floor in the "Oh So Very" pink room. It had a couple of layers of lino and then only one layer of "Beaverboard" (some sort of fibreboard with the name Beaverboard stamped on the back).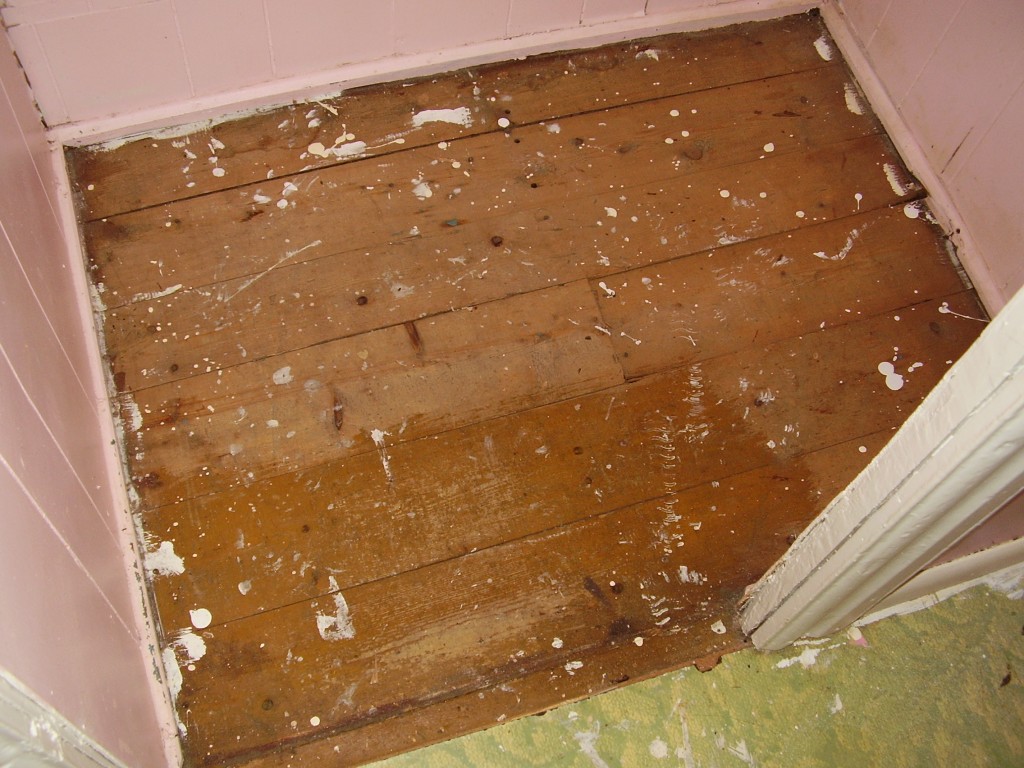 I do wish that there were period photos of these old rooms. We are trying to restore the wood floors and to replace the old baseboards and all of the missing wooden mouldings for the windows and doors . The goal is to return the little house to it's original period condition but this is made a little harder when you are not sure what it used to look like.
This little old house appears to be an Edwardian-style or Second-Empire cottage but it is actually rumoured to have been built somewhat later than that period. Maybe sometime after 1915? The cottage is constructed in a vernacular style and does not appear to have had the corbels that would usually be found under the eaves or many of the other decorative trims that would have been typical.
The original wooden glazed doors are long gone but at least the windows in the mansard roof dormers are still the original single-pane sash windows (so very cold). One day we are hoping that we will find replacement vintage glazed wooden doors and then we will get the pleasure of replacing the truly awful 1980s style steel front and side porch doors (that open outwards… to the Atlantic winds,  Yup… more cold).
It is nice to get whatever information we can about the original builders. We know that the family that constructed this charming little house were Clennans and there are still many Clennan family descendants here on the Islands. Hoping to meet some of them and maybe to collect more history on this interesting little project. The style of this house is unique here, most of the other houses on the Island are the more typical Maritime saltboxes so I would love to know what possessed them to do something so different.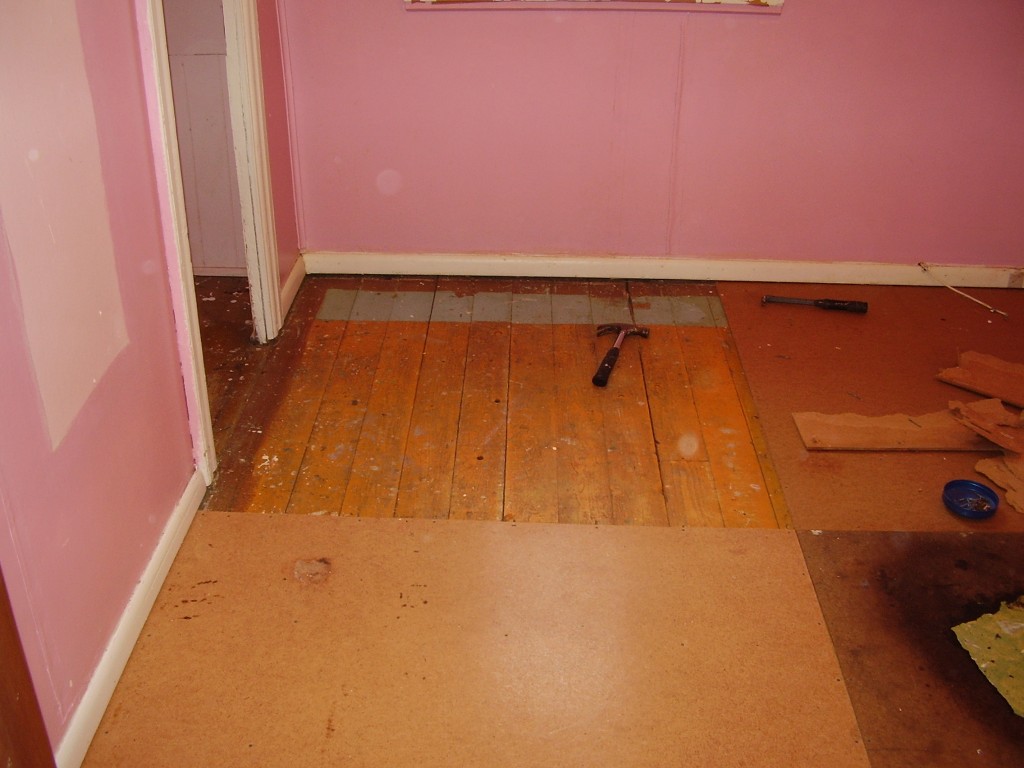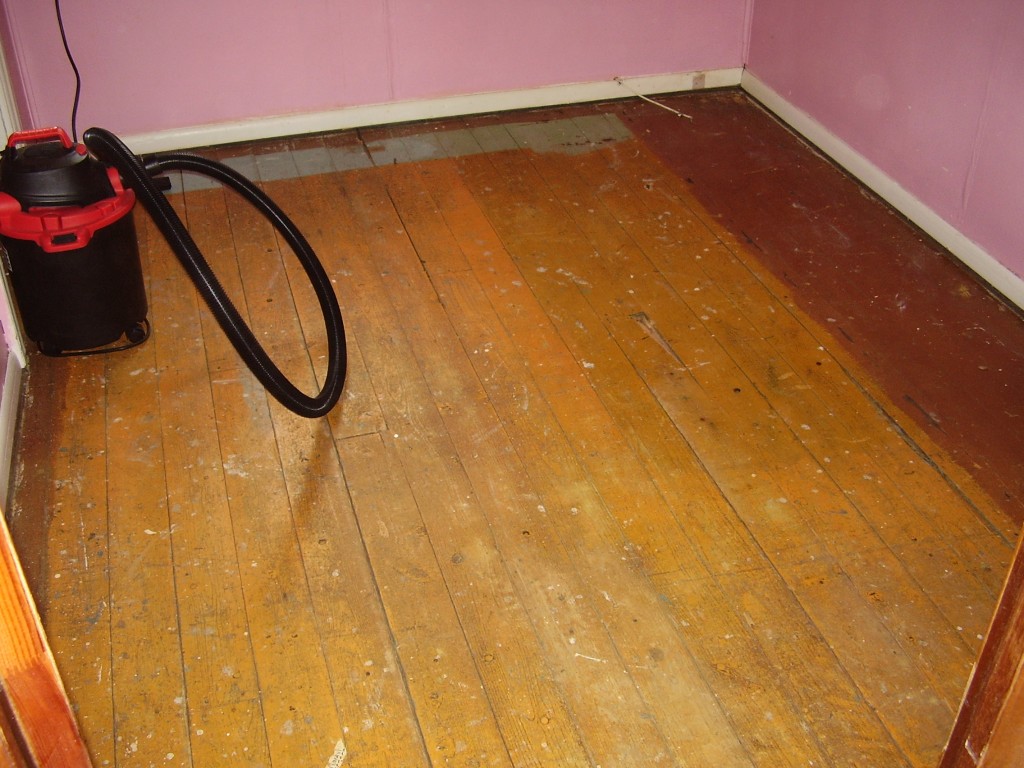 Sanding and waxing the old floors will be the last task of this many-years-long cottage renovation. So this will be the state of our flooring for quite a while.
Just have to keep remembering that there are people that pay good money to install floors that look like this "antiqued" flooring. Righto.
7