We bought this house. On purpose. Over the interwebs. From the complete other side of Canada. Without ever seeing it. Yup, this is going to be a story. Better make some tea.
This picture was taken on the very first day that I arrived here. We had packed up a convertible  Suzuki Sidekick with clothing, dishes, a dome tent, a bucket of tools and a cat (yes, a very agreeable cat). Then the little car was driven on an epic camping trip all the way across Canada from Vancouver BC to here, LIttle Anse NS. To this house.
Little Anse is an Acadian fishing village on a little Island called Petit de Grat. Petit de Grat can be reached by the causeway that connects it to the larger island of Isle Madame. Isle Madame is connected by another causeway to Cape Breton Island which is, in turn, connected by yet another causeway to mainland Nova Scotia. Sort of like a set of Russian nesting dolls made out of Islands. The series of causeways do, however, make a nice change from the picturesque but constraining ferries that I am used to after living in the Gulf Islands in BC.
But back to the Shanty. We knew it was going to need work (lots of work). It is an unforgiving place here and if you are idle for a week then nature takes it back. This little house had been unloved for quite a while.
Back when we were searching for a house I came across a meme that completely summed up our "buy a little house" endevour. In this captioned photograph there was a very small pocket dog clothed in a plastic suit of armour that had been fashioned from a hollowed out water bottle. The caption read "We can fix him… not want to spend much". Kind of how we approached this little house which is now lovingly outfitted with official title of "The Shanty" (an upgrade from its original title… "The Crap-Shack").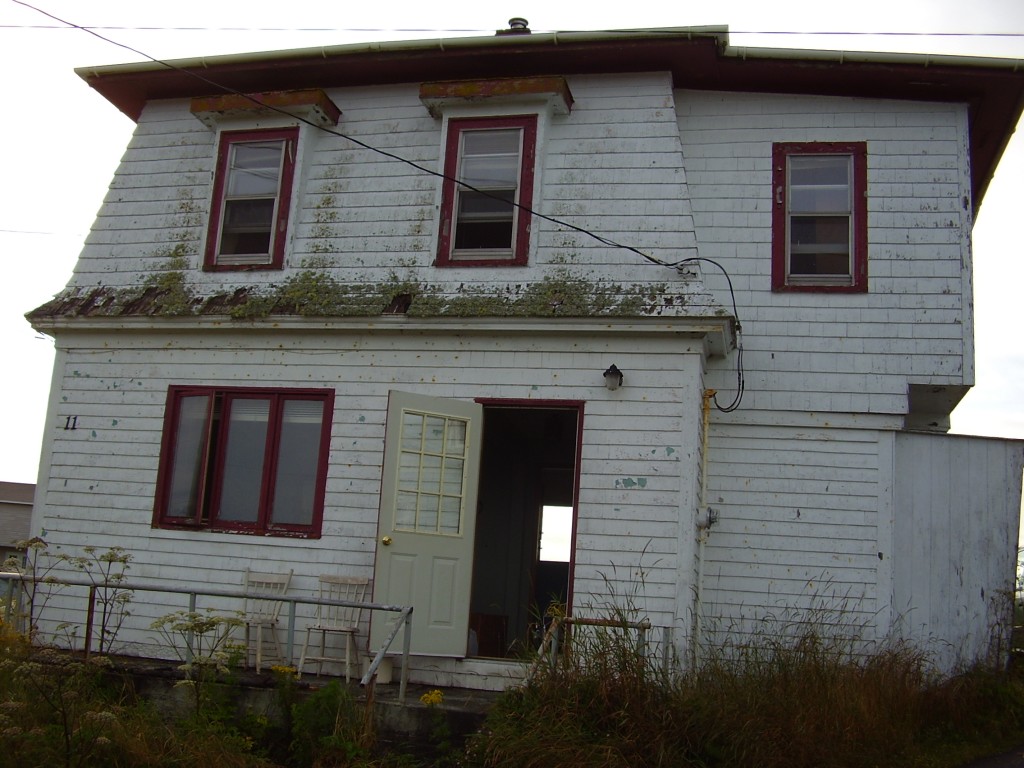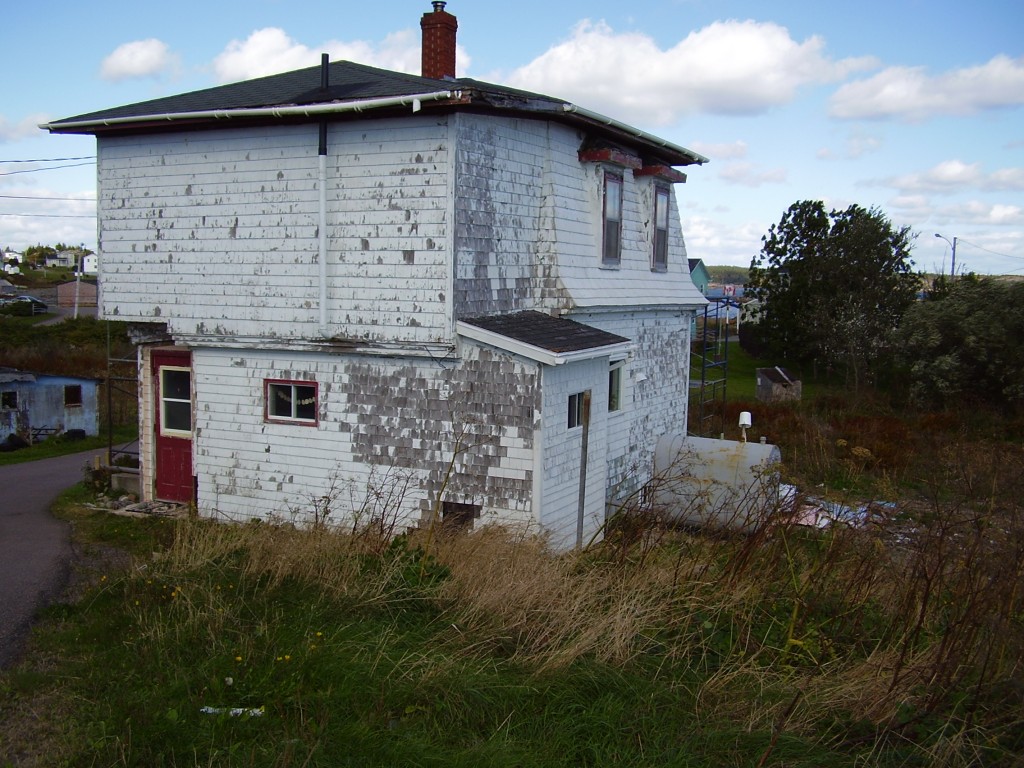 You can kind of see why most of the people in the village thought this little house was ready for the chop. There was paint peeling in sheets, muck and mildew everywhere, and the cedar shingle siding  was in amazingly terrible shape. It just looked discouragingly awful. Further inspection, though, revealed a solid little Edwardian cottage (under a lot of interesting 1970s "upgrades") and a roof that did not leak. There was no rot in the timbers that frame the house's structure. Thick old tar paper under the rotten cedar shingles had protected the sheathing from the elements and yet allowed the empty house to breathe. About half of the cedar siding was able to be salvaged. That was the good news. The dormer windows and the other half of the siding had not fared as well and most of these had to be rebuilt. Okay! We could do this and we were started.
Sigh, time to get to work. We called the power company and they festooned our power lines with this lovely yellow guard strip. So at least we knew we would die from falling off the scaffolding rather than by electrocution. Nice.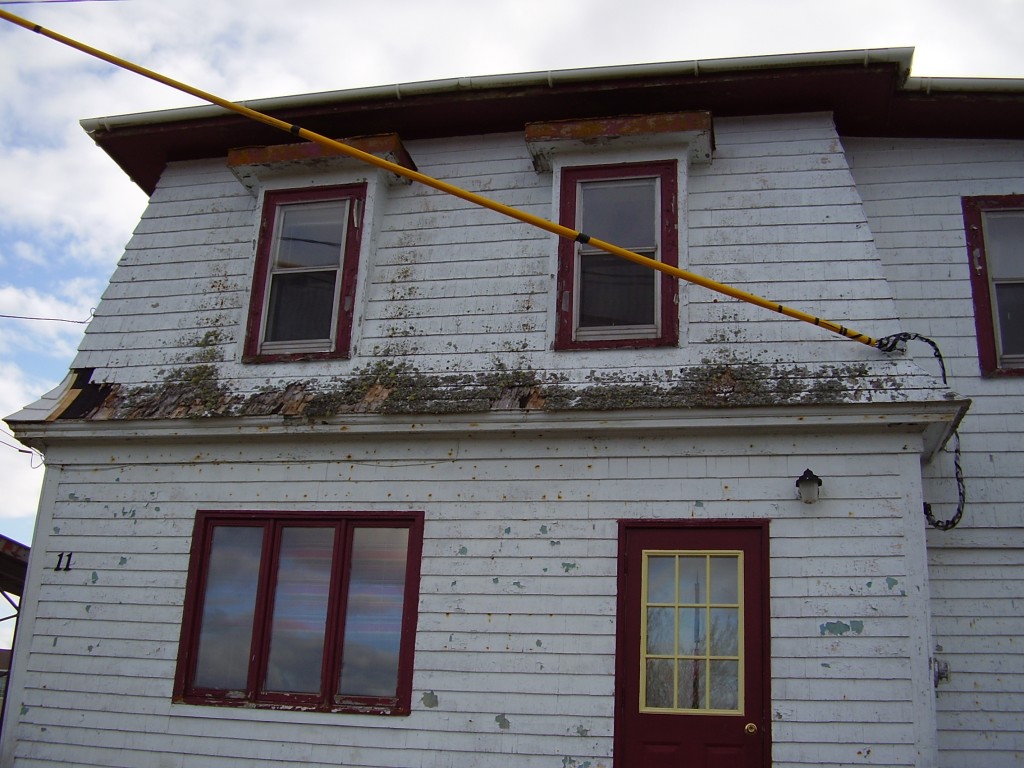 Time to start ripping cedar shingles. Taking the house apart is much faster than putting it back together. A glorious mess ensues (sigh…). Around here you cannot just leave construction mess and clean it all up at the end. No, here you have to clean up every single broken shingle bit or the wind will carry it over to your less than amused neighbours ('nother one sigh).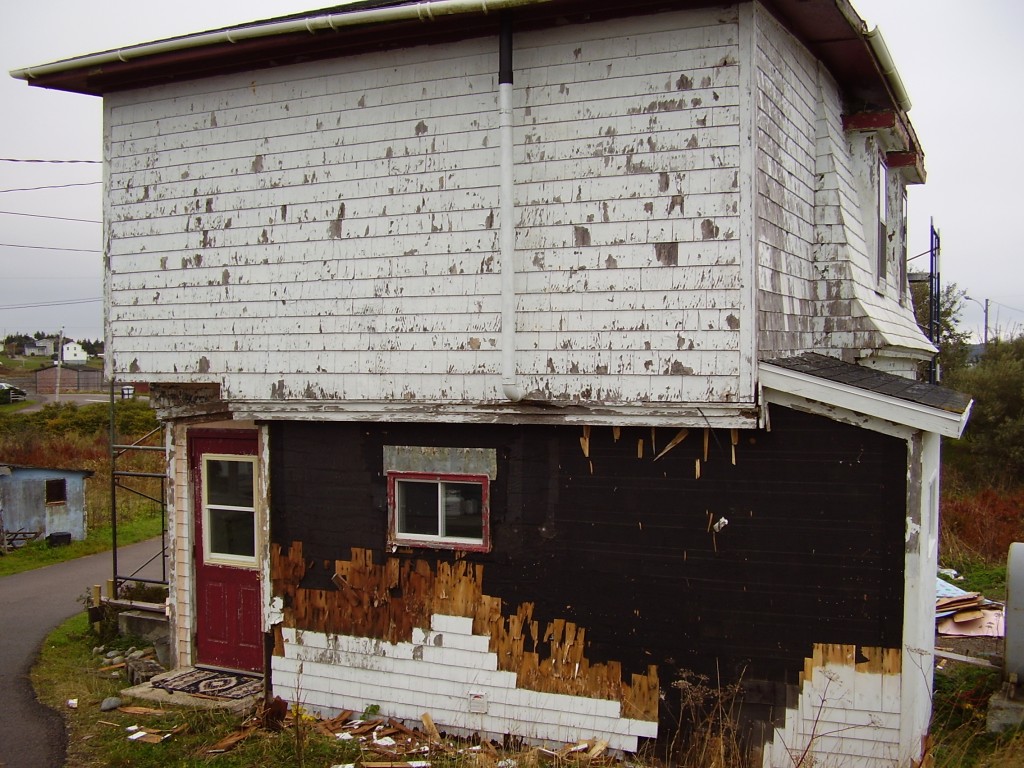 Time to scrape, and scrape and scrape some more. So many piles of paint chips were scraped off in a veritable rainbow of  layers – pink, blue, green, purple, white and red, wow! I tend to anthropomorphize everything around me. I feel really bad for the carrot seedlings that must be thinned, I feel sorry for the truck when it has to go up steep hills and I felt really terrible for ripping the skin off this little house (ouch!).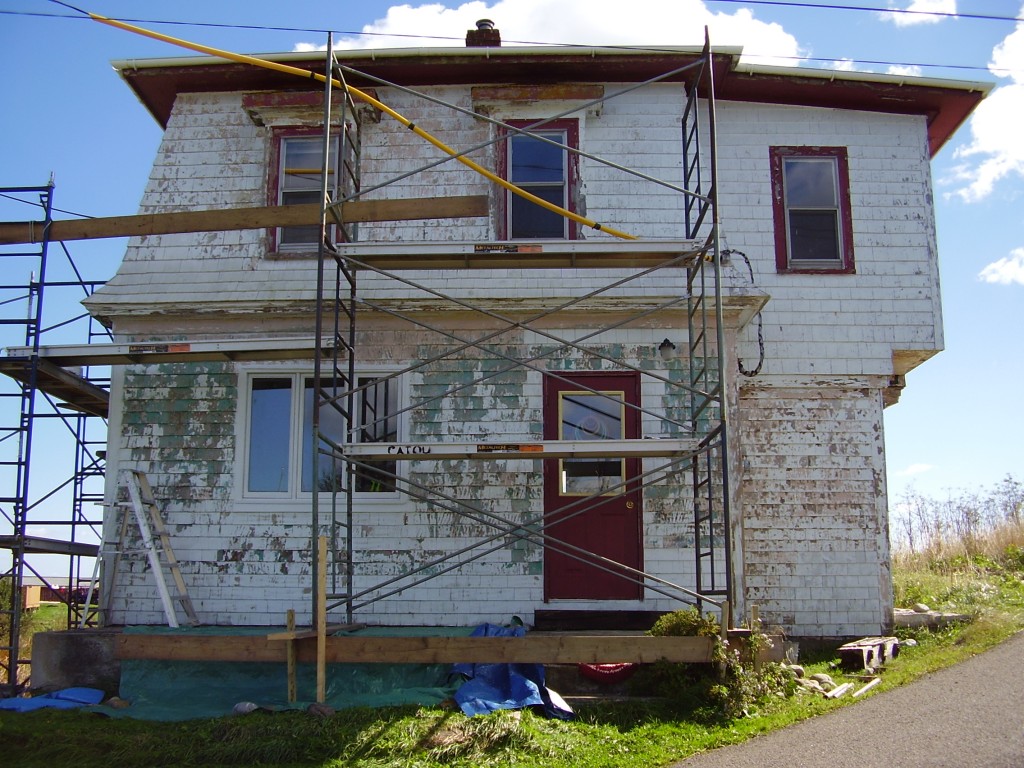 Still more scraping, three stories high this time. It doesn't look too bad from this angle but the roof line of this little house is right at thirty feet high. Not really super fun when you are up there, nope. Scaffolding wobbles alarmingly even when it is tied to the house frame. I had a lot of moments during this process where after collapsing into sleep I was unable to roll over in bed (my brain was convinced that I was sleeping on a scaffolding platform and would fall to my death if I did). Fun.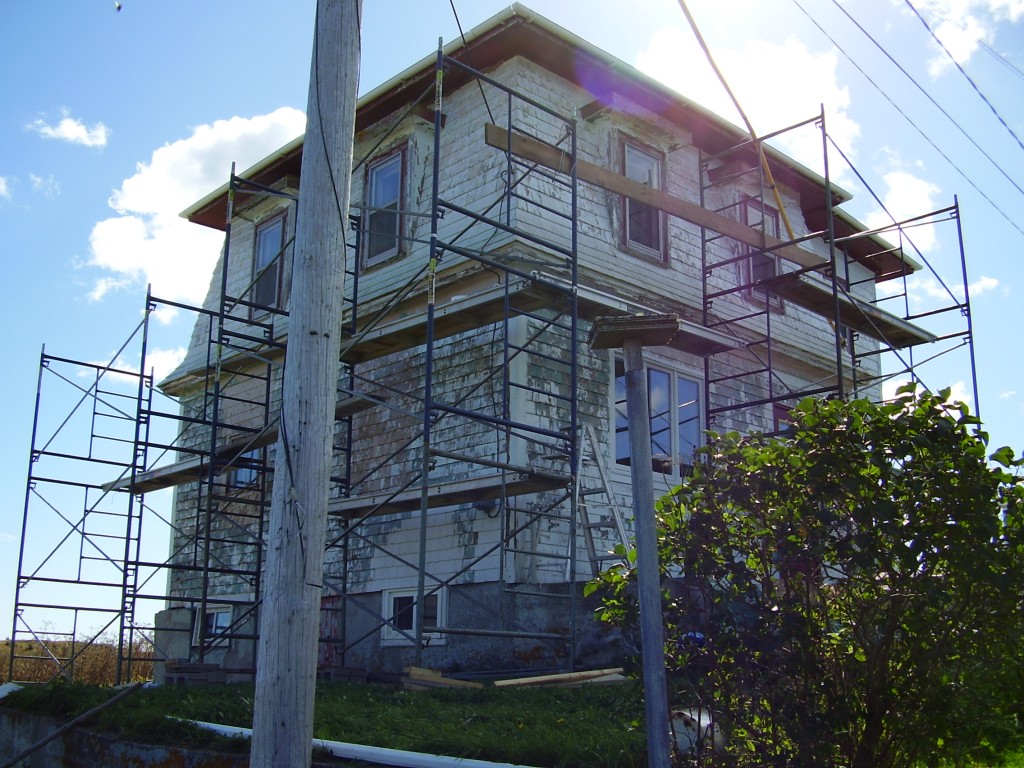 Next the really bad side got it's lovely shiny new cedar skin. I did so want to be able to just stain it at this point but there was no way we could afford to do the rest of the house in new shingles, (still more sigh).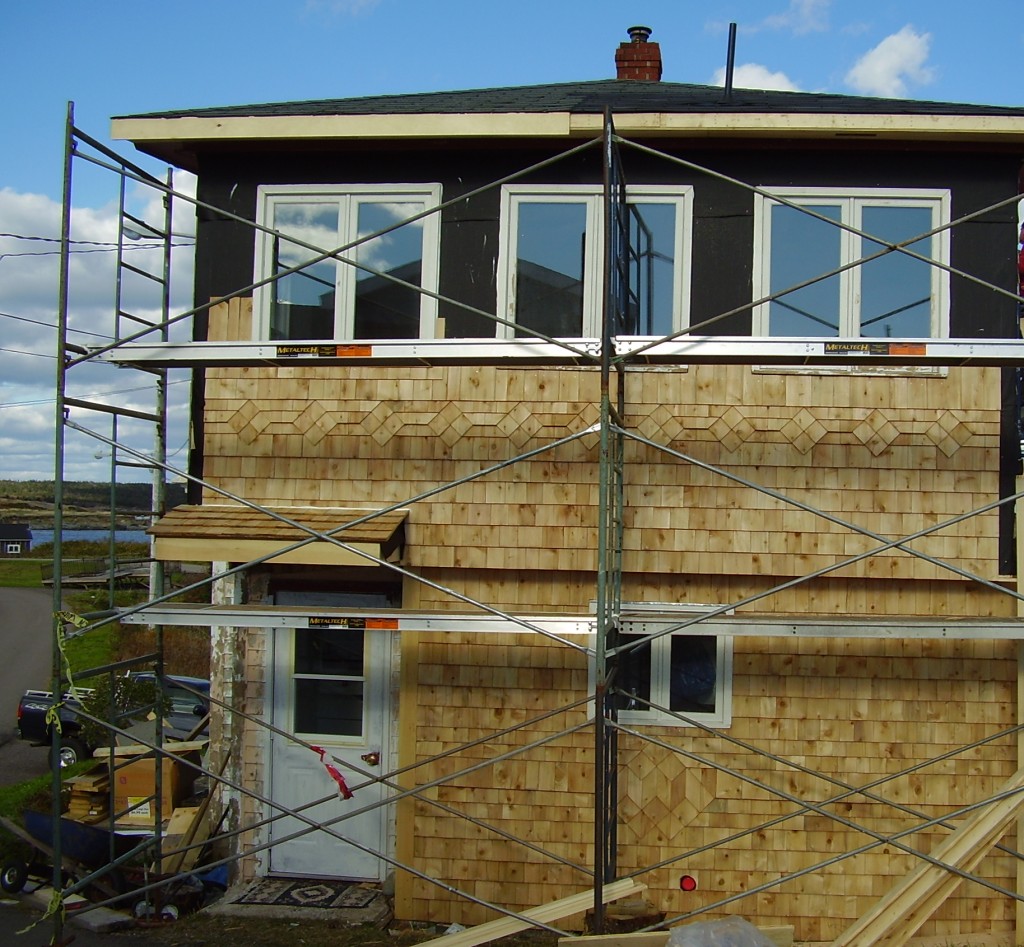 Now it was finally time for the primer! Oh Happy Day! She was starting to look a little bit better. Maybe this folly would work out after all.
It turns out that this little house is secretly a Reverse-Tardis. It is, you see, actually bigger on the outside. Did you know that old shingles on a Reverse-Tardis soak up an awful lot of primer? The new ones do too, so back to the hardware store yet again for an additional five gallons of primer.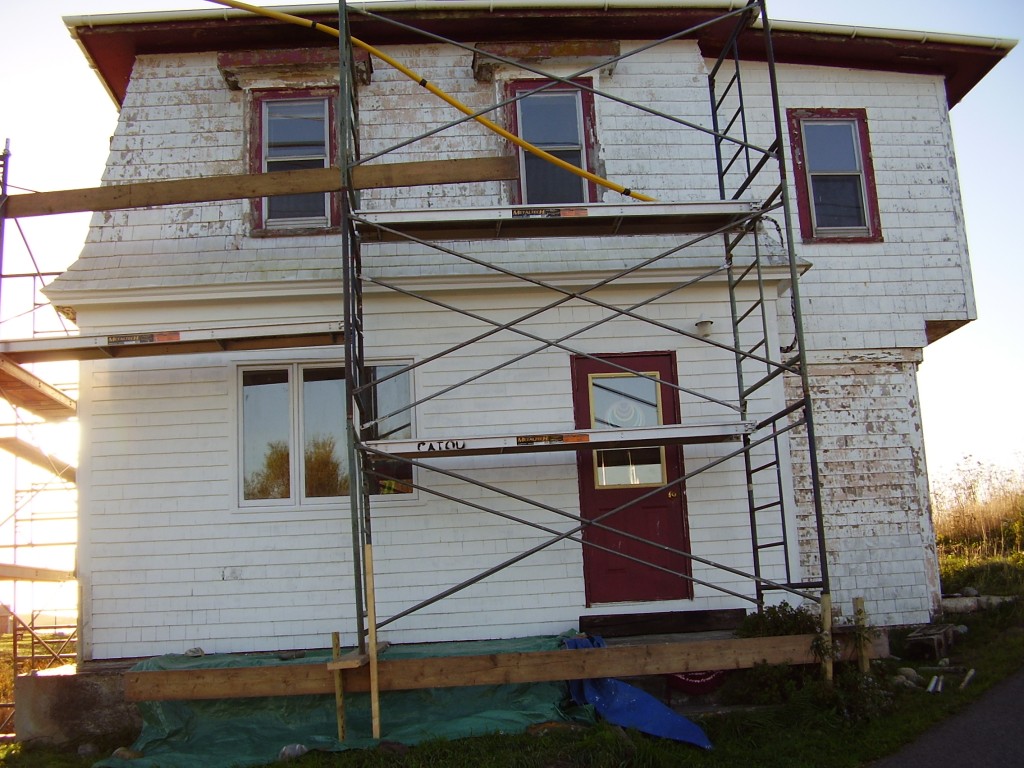 When you choose a deep Tardis blue for your house you get the pleasure of putting at least three thick coats of paint on said house. Did I mention there is serious wind here? Wind that makes nasty little paint drips that will merrily fly everywhere. Paint drips in you hair, paint drips on your windows, paint drips in you eyes. Not super sure this was a good idea by this point. Prematurely blue hair… yup.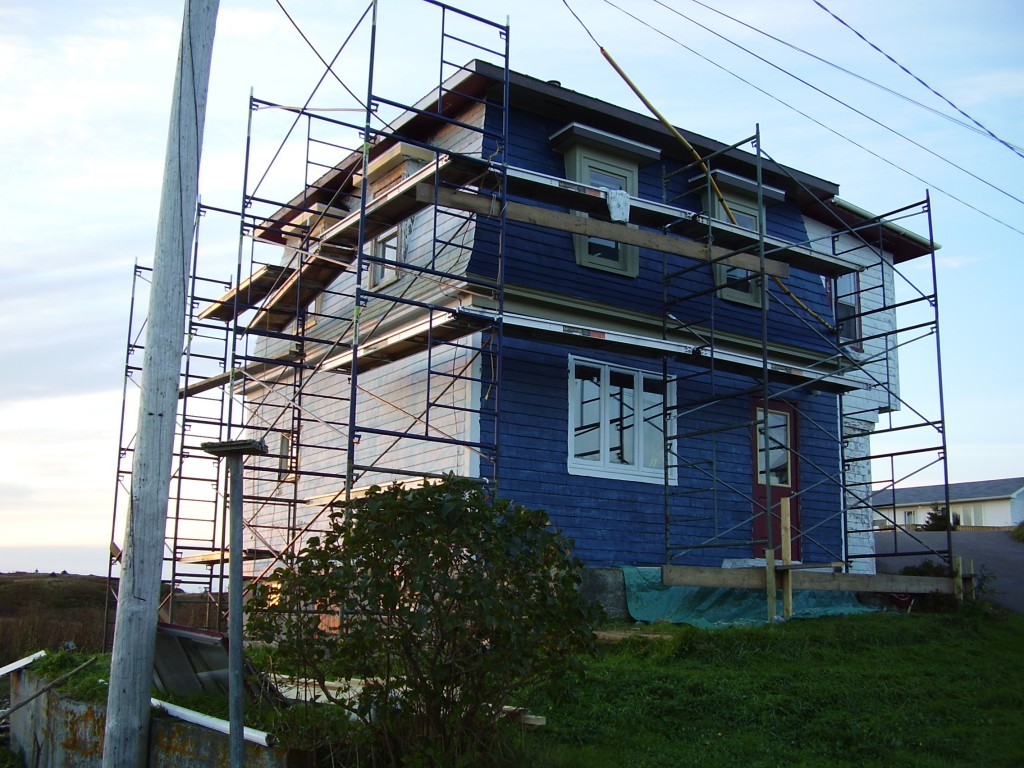 Honestly, how can such a tiny house absorb so much paint? We started naively with five shiny new gallons of pretty blue paint. This was barely enough to cover the first two sides. Back to the hardware store, again, for even more paint. After fifteen gallons of rather pricey Benjamin Moore house paint and an equal portion of primer, the little house has a new skin. Yeah!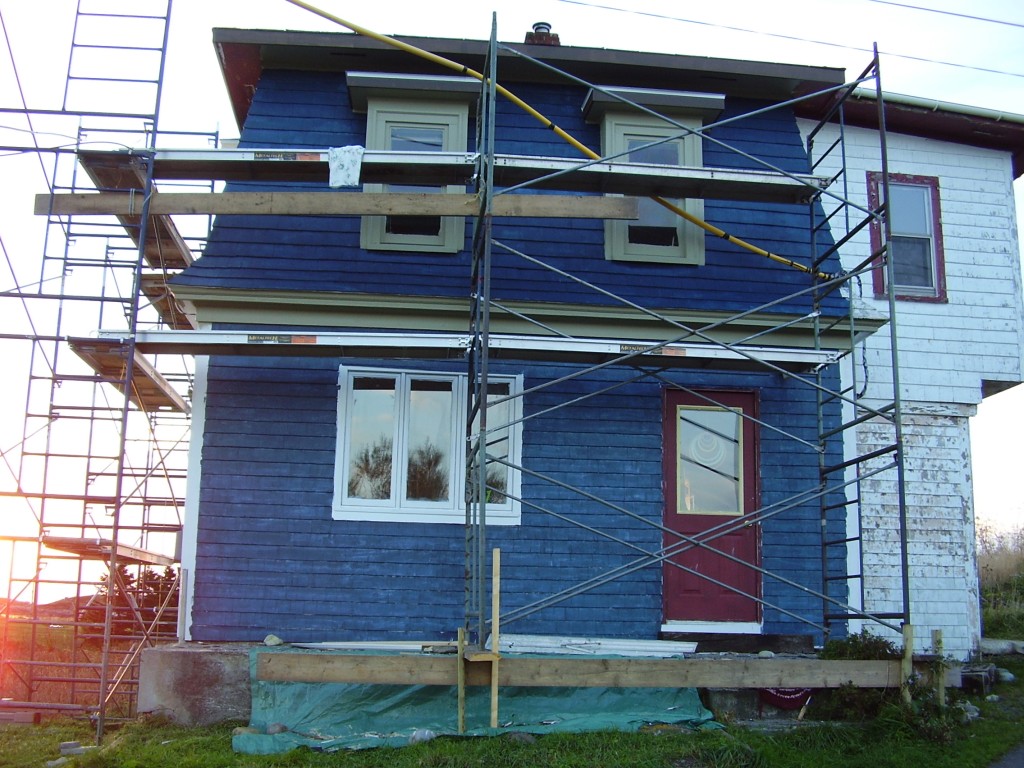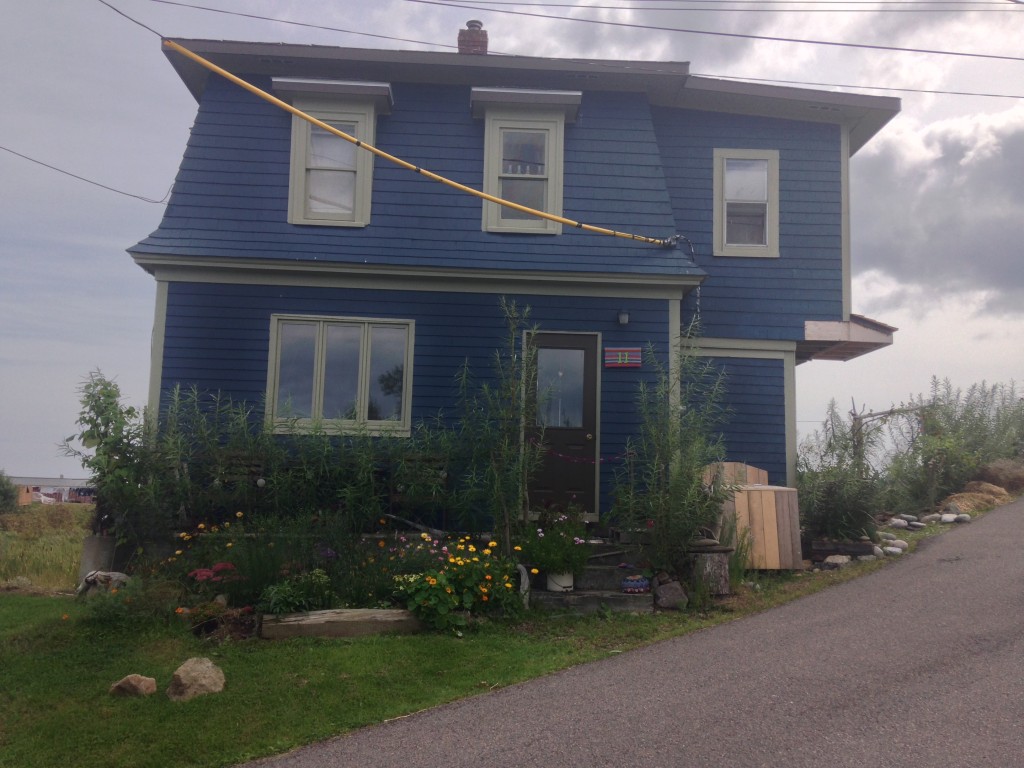 We still have the "pretty" yellow electrical wrap but it is finally starting to look more civilized.
Maybe we can fix her after all! 
17