May is the month of Magic!
We go from this…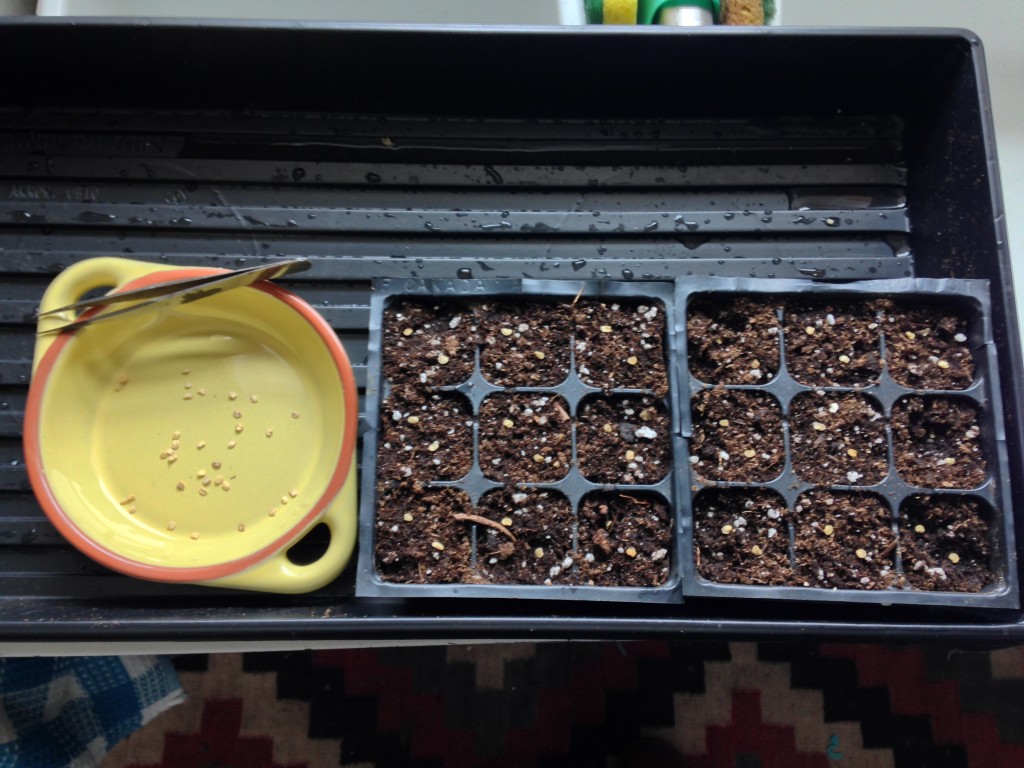 To this…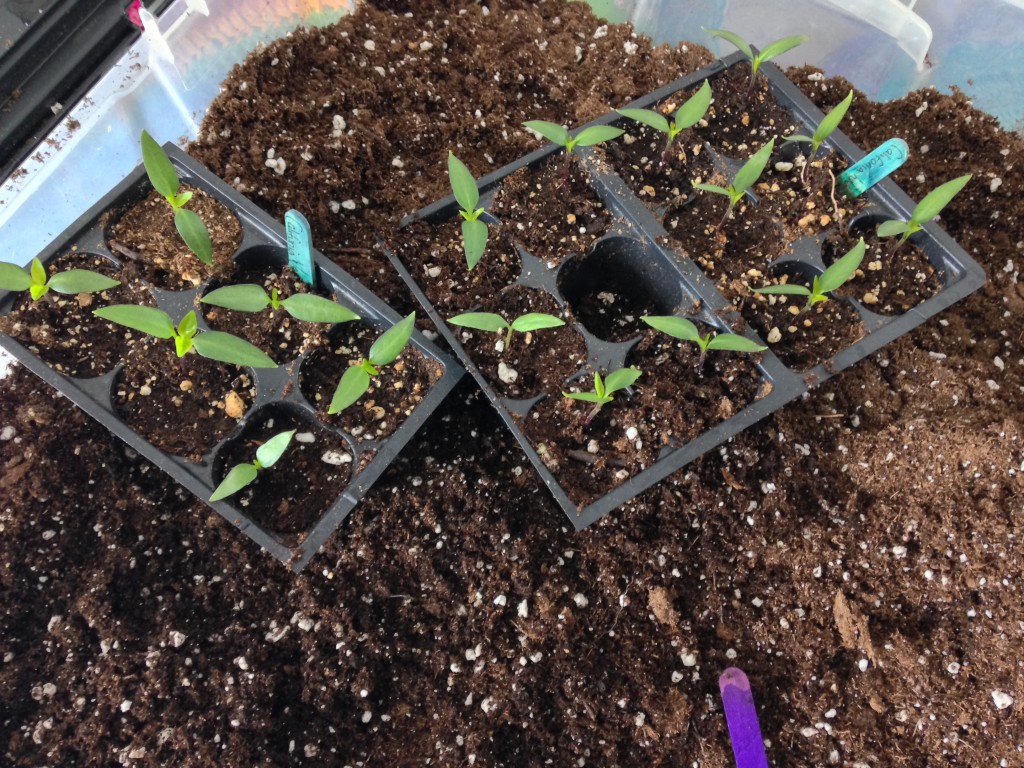 To this…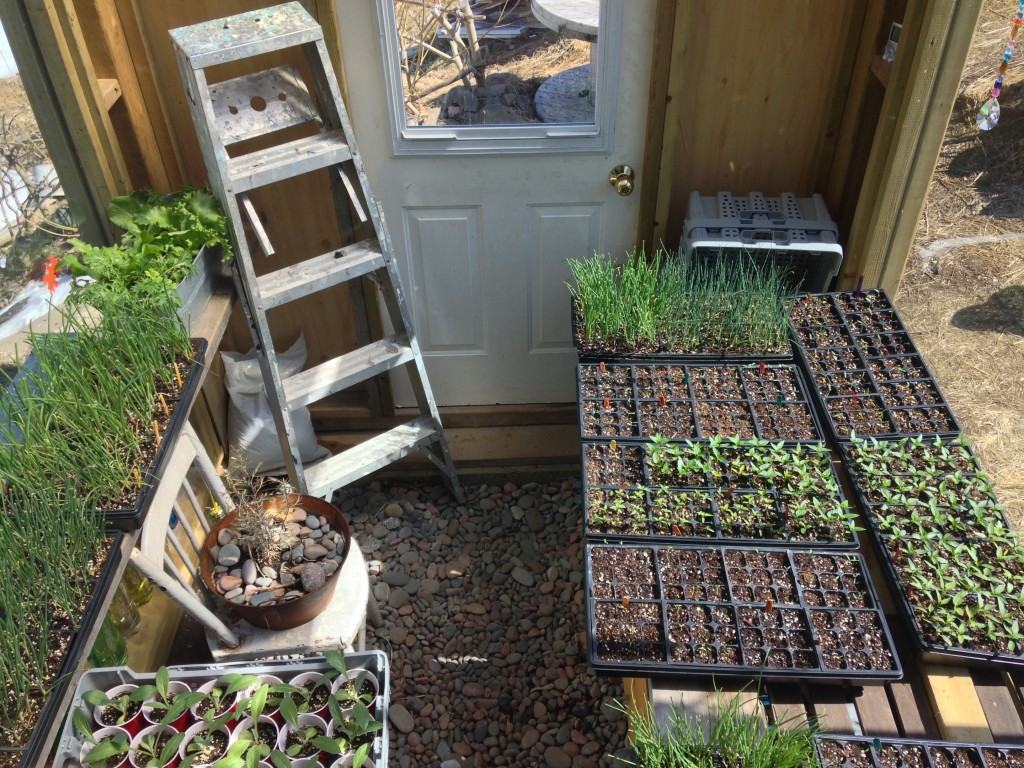 And then suddenly there they are!  Great big pretty transplants…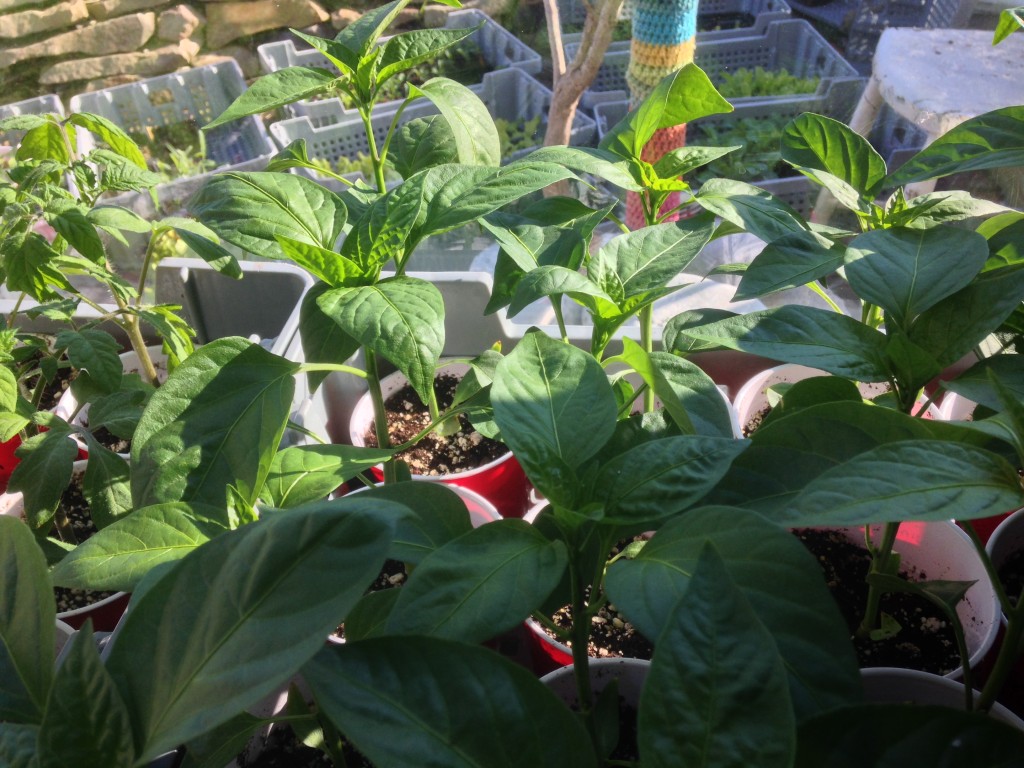 This May has gone by in a Flash! We had the most excellent Track-hoe in to dig out some of the new terraces and what a relief that is. The power in that machine! Most awesome and also sort of terrifying. You can only mess up a smallish area of the garden at a time when you are using a shovel so it was pretty clear that we had better get it right the first time with this truly macho-machine. Yup.
Some of the hot weather transplants have been set out and many different varieties of seeds have been dirent-sown in the raised beds. Sweet little vegetable sprout-lings can be seen popping up all over. The months of planning, the shelves of grow-lights and all of the soil mess and careful transplant work (and also the fussing) are starting to seem like it will actually result in a real and actual Garden.
All of the Kale is, of course, doing marvellously in this cool and misty weather that is passing for Spring (go Brassicas!).
We have direct-sown several kinds of Snap Peas (Sugar Sprint, Sugar Lace and Sugar Snap…Oh! do we ever love Snap Peas!) and by the end of May we can see the tiny sprouts finally poking up (finally becoming a more patient Gardener and learning to not dig them up to try to see how they are doing… Good Girl). Broad Beans are humming along nicely and the first of many successions of Bush and Pole Beans have been sown (a real stand-out should be – Carminat – a pretty purple French Bean).
Rhubarb is almost ready to start cutting and the Asparagus is looking fantastic!
The first succession of Celery plants were set out pretty early as an experiment (if it bolts at least we get free seed, right?).
Six kinds of Onions were started from seed in early February and they are all transplanted and growing very well thank-you. The last of the Spring Onions and the Green Garlic have been pulled from the greenhouse to make way for the hot season crops (a nice mason jar is sitting on the counter bubbling into a nifty Lacto-fermented Spring Onion Pickle).
Tons of "catch crop" Lettuces, Radishes, pretty purple Kohlrabi and assorted Salad and Stir-fry Greens are inter-planted all through the beds of slower growing vegetables and hopefully this week we will start to see some nice harvests. Phewf!
A wild range of coloured Beets, Swiss Chard and some nifty Rainbow-Carrots are pushing up through the soil (Parsnips too…oh-so-slow Parsnips).
The first wave of Tomatoes, Winter Squash and a few "test" Cucumbers were transplanted at the end of the month (under cloches) and so far, so good. Hoping that we are completely done with frosts but you never know… so there are crates of back up plants that will stay in the greenhouse for a while longer (not counting our "weather-chickens" and all that…).
Oh… and the two hundred Strawberry plants that we put in are starting to flower! Organic Strawberries. Very Nice.
Our cute little Market-stand is now open on the weekends and soon will be open at least five days a week. Wow. We had the bright idea to start a little plant sale offered by a kind and clever reader and thank the Pink Fairy she was so smart… I do not know where we would have planted all the most beloved Tomato, Eggplant and Pepper starts?!
It is also so very nice to get to share our Market Gardens when people come up to visit and we are very grateful for the plant sale suggestion (when you are a "Plant-Slave" like me you don't get to see many people unless they come to you… demanding greedy Gardens). Many heirloom Vegetable starts went home with local Gardeners to a range of Gardens and Greenhouses all around the Islands and it was so nice to get to chat with all kinds of other Plant-lovers. Shiny.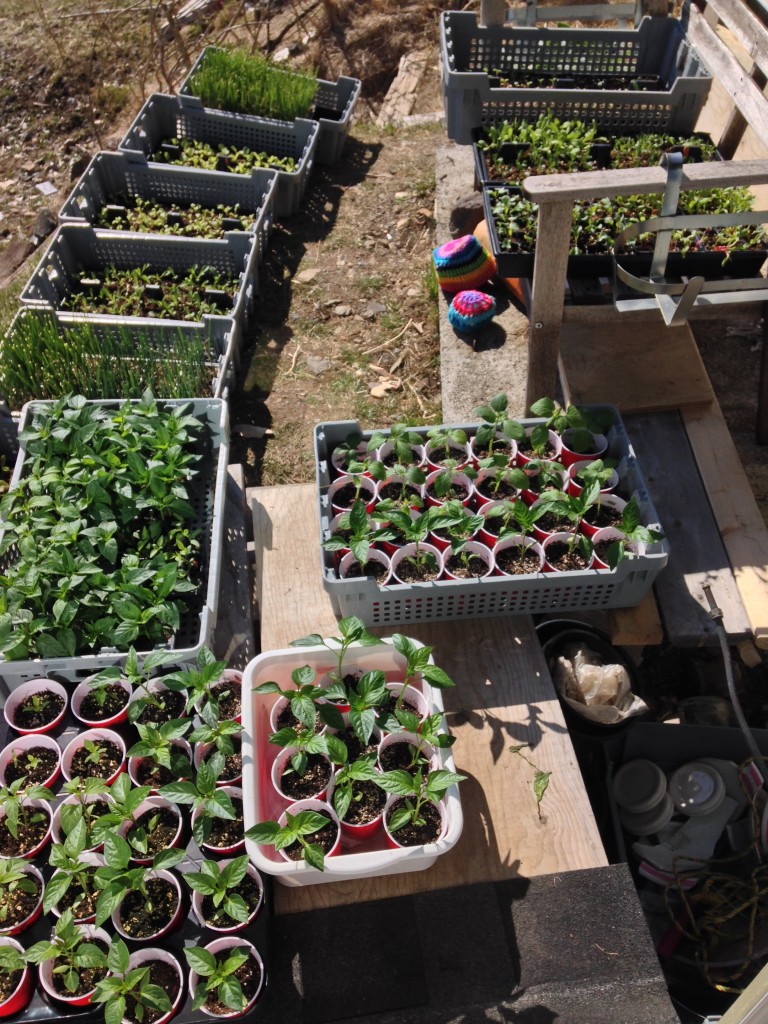 Lastly, I am most that a bit mystified that we have way more than tripled the land that we have under cultivation but still I have the pressing feeling that we will NOT have enough space… Eep!
3