"Nice ice for sale!… ten cents a pail!" This time of year, I hear that little ditty every time I look out any of our windows. Yup… you can have it. The plow could not make it up our road last week. So the county sent an enormous excavator armed with a gigantic plow blade. This is just a wee bit alarming since this little shack-shack attack sits neatly on the very tippy-edge of the road. Little more than six whole inches from side doormat to pavement. So one tiny slip, one wrong turn and no more mudroom. Yikes! is right.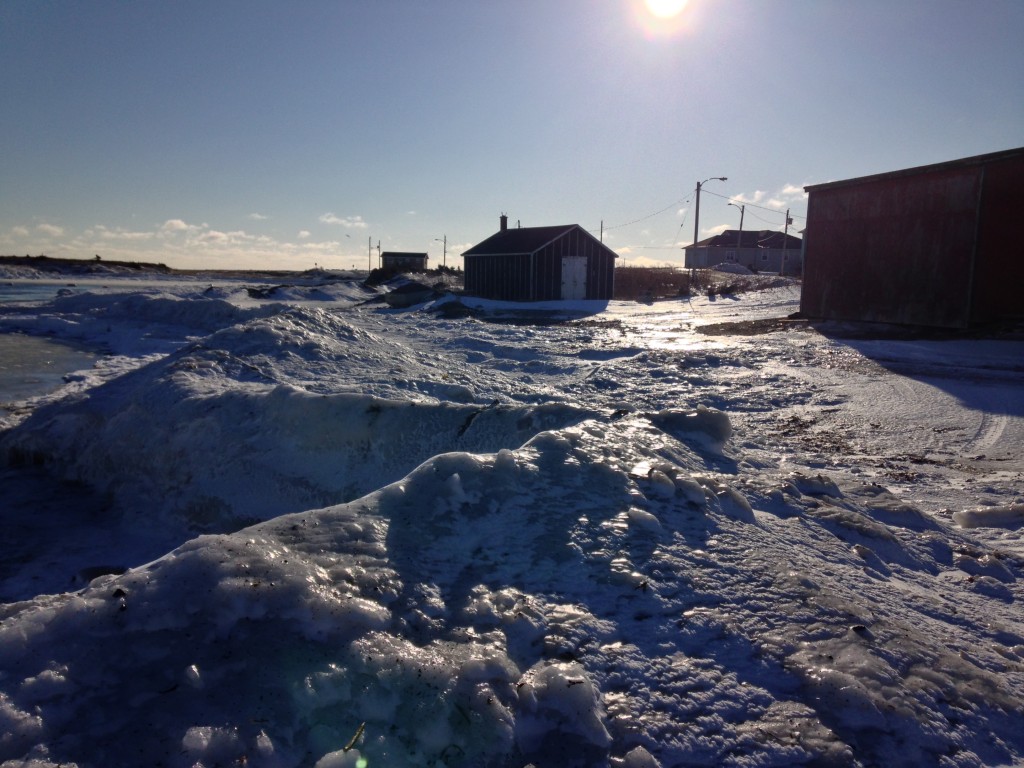 In this place we have serious cold. Canadian cold. It is not as bad as the town of Snag in the Yukon or the city of Winter-peg in Manitoba and not at all like the town of Wawa, Ontario where the Gardener could not be persuaded to do her oil checking duties for love nor money (minus 40°? …ummm, nope). Here we do not have to have engine block heaters, there are no five foot deep frost lines, and no World Records of cold. Still this is an interesting, bracing and no fooling around style cold. This little house holds up pretty well, considering the birch bark curls that are the only insulation in almost all of the walls. Yup, pretty curls of bark… most of which have settled into the bottom half of the walls (not too sure of the potential R-value of birch bark curls anyway). So, no actual insulation really.
Tough, the people that started in this place. I think back to 1910 (around when this house was built). There were no forced air oil furnaces, no cars, no electricity, no telephones. Having a trusty old "lukewarm, dust-bunny blowing " but effective oil furnace we still wear layers – lambswool sweaters, long wool under-knickers, and grey sock-monkey socks with the sheepskin slippers and the scarves and also the fingerless mitts. Most of this is worn to bed too. Nanook of the North would be proud! Oh yes it is a glamourous life here at Half-Hazard Hollow. Swimmin' Pools and Movie Stars!
This here is the beach at the end of our drive. This is our beach on Winter. Miniature glaciers extend along the beach five and six feet high. I guess the wind washed the sea over, and over, and over again on the piles of snow and created these amazing cliffs of ice.
Windchill level: Hoth.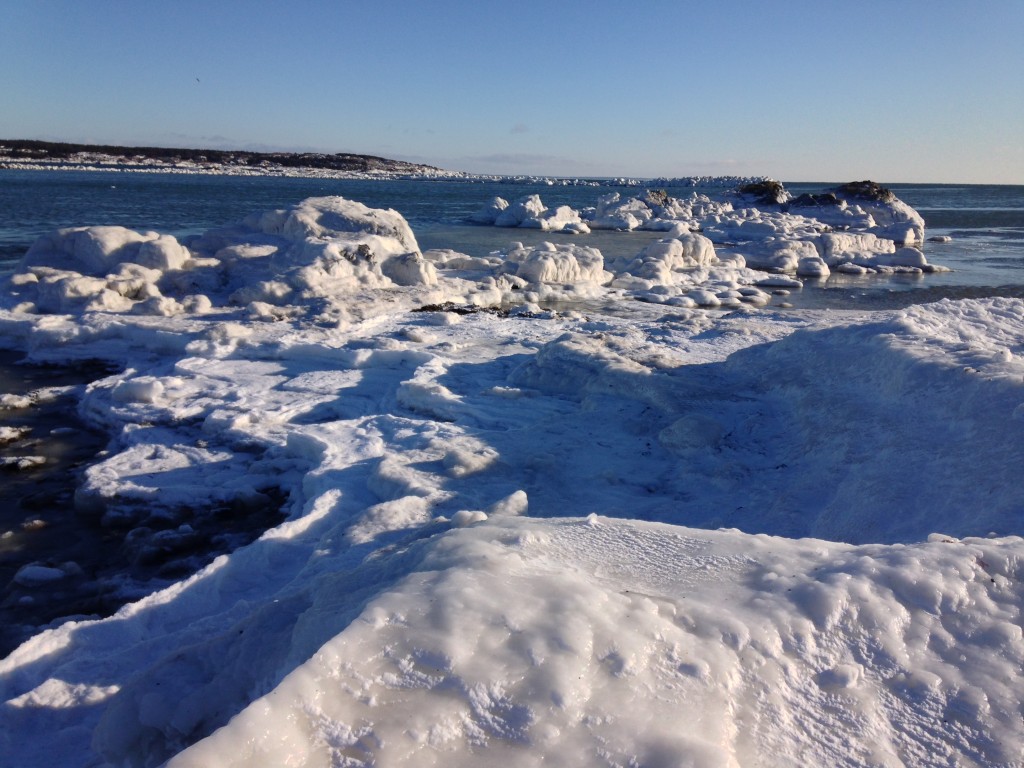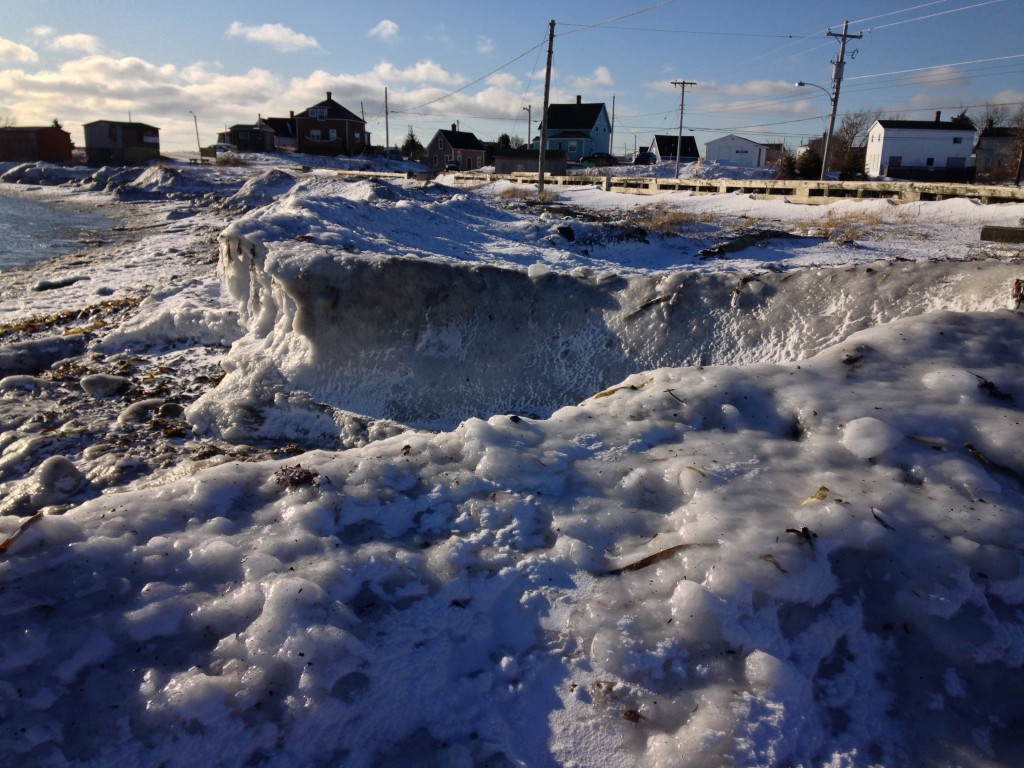 I wish I was co-ordinated enough to have managed to get down closer to the old destroyed dock. It looked like a fairie's freighter! All icy and glittery and unreal. The folks that live here do seem to come down to the beaches just to look at these kinds of things. When a right royal blow rolls in, we can see a succession of adventure seekers in cars and trucks making their way down to the end of the lane to watch the waves rock out on the beach. Pretty cool for sure.
I lived for a while in place that has a long curving concrete breakwater that extends out into the sea for several hundred feet. It is a very nice walk and also a good place to catch Salmon and Rock Cod. Every few years a truly magnificent blow would come through and, once,  a few foolhardy and adventurous souls did get blown off this breakwater and into the sea. A horrible story, I know, but I did always understand why they were driven to brave it (they gate that breakwater off in bad weather nowadays… probably for the best). There is just something irresistibly attractive about a real bang up storm!
I love a good storm too, but at heart I am a "sweet summer child". I look on Winter with a fairly grave and suspicious attitude. Skiing and skating and other charming  Winter activities are endeavours that, I feel, one should be paid to engage in. I do, however, like to look at Winter and most recently to take pictures of said Winter. It must be a really double-plus extra lovely level of pretty this year because I have deliberately bundled self up and taken self out just to take snaps two entire different times. I have always been a bit scornful of silly seeming inventions such as "texting gloves" but I must confess to trying to think of a way to make a camera hole in my mitten so that I would not have to take it off to take these photos. Camera mittens make sense now, I am humbled (much embarrassed, hangs head).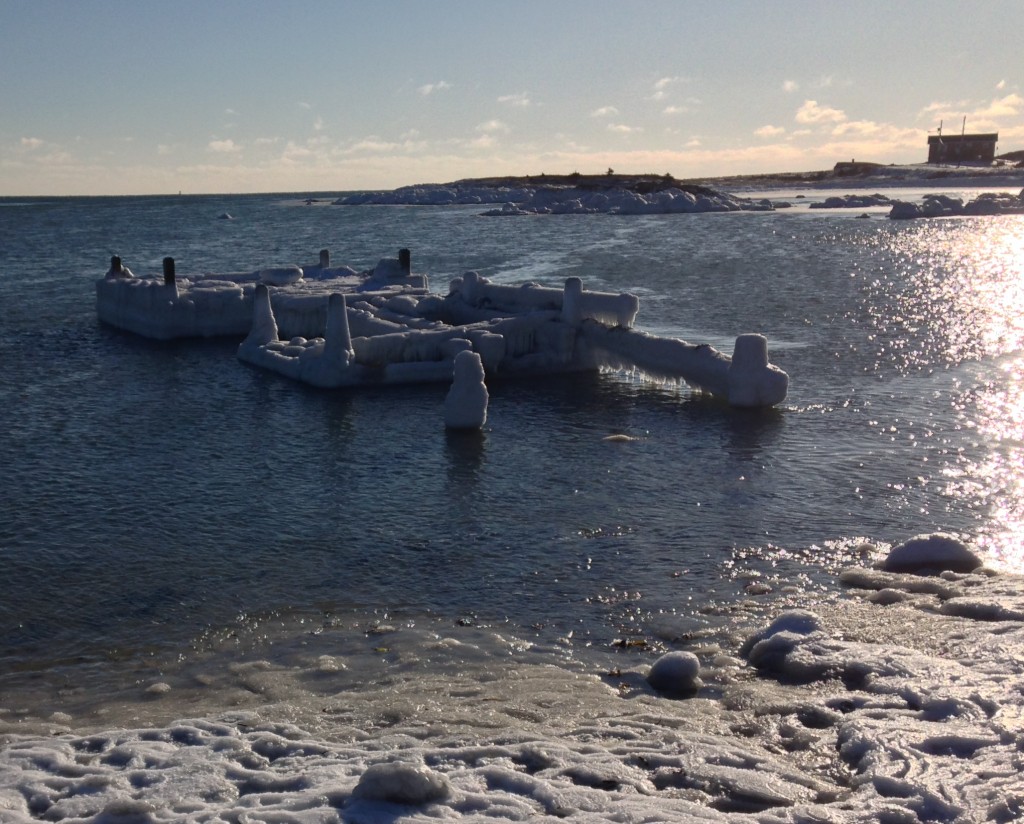 I love how this little bright blue house stands out against the snow. I was told a delightful story about the "old days" here. Back before, it seems, that each of the houses in the village were painted in colours, red, pink, orange, green, blue and so on. And there was a corresponding coloured dinghy for almost every house! How wonderful! I love to hear about the history of this beautiful place!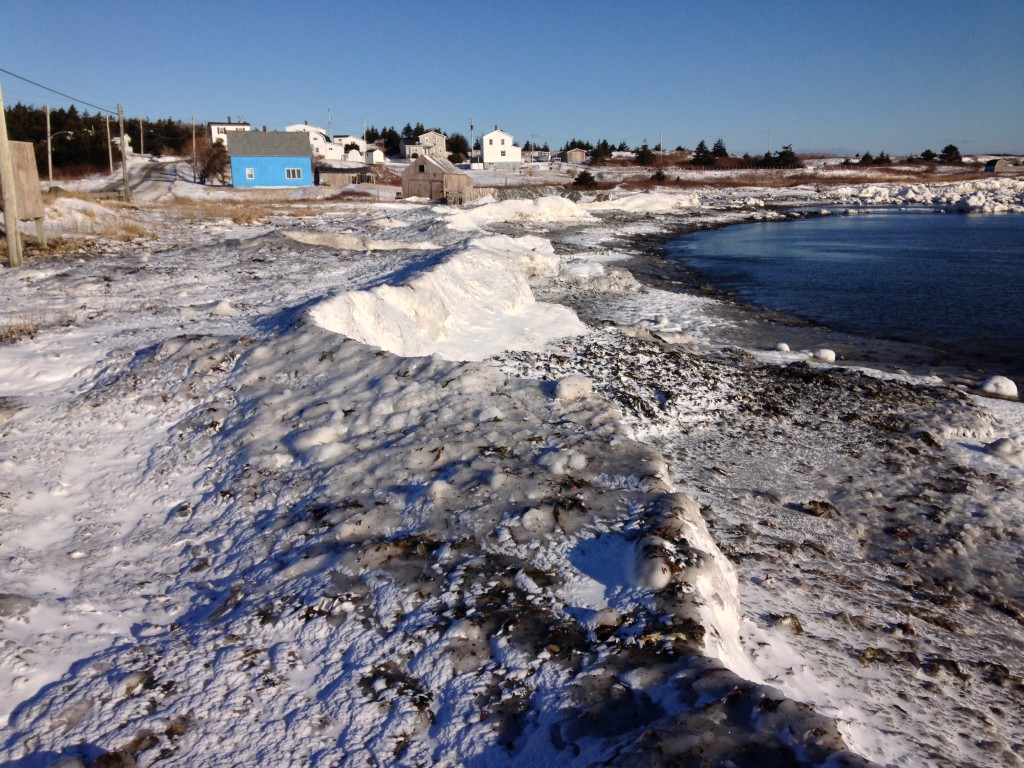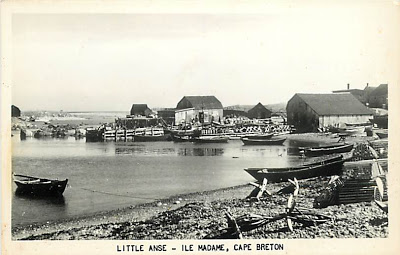 capermemories.com
That is the past though, all the fishing boats have been moved to the unharmed docks on the other side of the island. The Little Anse dock was wrecked in a hurricane. I don't think that there is any hope that it will ever be repaired. No more fishing boats, only one lone red dinghy. Very quiet now.
9